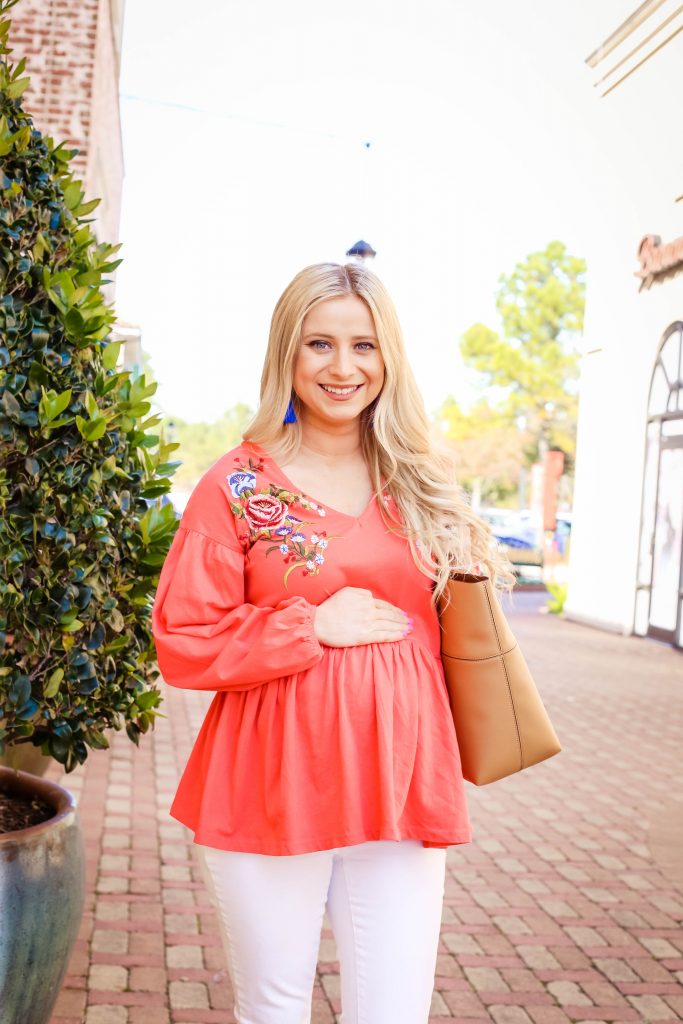 Creating a baby registry is hard, especially for a first time Mom. When I started creating mine, I had no idea where to start. I tried to follow some "guides" as to what I needed to add but every guide was so different! If I had followed them, I would have probably ended up with 500 items on my registries. I think that might have been a little much! I have been getting a lot of questions about what I thought my must have items have been and I'm excited to share with y'all. I hope this makes registering just a little bit easier because I know I was so overwhelmed! I registered at three different places: Amazon, Target and Pottery Barn Kids. This is not an all encompassing registry list but just a few of my must haves! If you want a more detailed list, let me know and I would love to work on that for y'all!
DockATot – We have used this since the first day we brought Hunter home from the hospital! We keep it on the couch so that we can just lay Hunter by us while were hanging out and don't have to worry about her rolling around. It keeps her secure and she loves it! She sleeps so well in her little dock.
Boppy – This is an all purpose pillow and is amazing! I use it to help support Hunter while nursing, feeding and holding. We also prop Hunter up in her boppy and she will look around! She also passes out while in her boppy. This pillow is truly the best.
mamaRoo Baby Swing  – The only reason that I'm able to sit down and write this post is because Hunter is in her mamaRoo! It's actually the only reason that Mason and I are able to eat meals together too! Okay, maybe a little dramatic but seriously it's a lifesaver! We just put Hunter in her swing while were trying to eat and she loves it! She sometimes will fall right asleep when we put her in here and other times she just takes in the world. It has 5 different motions like car ride or rock a bye, both of those are Hunter's favorites. The speed can also be adjusted. The best part is that you can control the mamaRoo from your phone! Mason, Hunter and I all LOVE the mamaRoo!!
Halo Bassinest – The bassinet is right by my side of the bed and is so easy to swivel closer to the bed if I need to check on Hunter. The bassinet also plays music and vibrates which is a lifesaver to get Hunter to fall back asleep in the middle of the night.
Owlet – This is a smart sock that goes on Hunter's foot while she sleeps and tracks her heart rate and oxygen levels. This has helped Mason and I actually be able to sleep. If Hunter's levels were to fall out of range, an alarm would go off so that we could check on her. I don't think I would be able to sleep very well without the Owlet.
Motorola Monitor – We currently have our monitor setup in our room since Hunter is still in her bassinet. The portable screen is great for checking on Hunter and we can play music through the monitor which Hunter loves. This monitor can also support more than one camera which is what we plan on using it for later on!
Dr. Brown's Bottles – We actually registered for a ton of Avent Natural bottles and have a bunch of them! Hunter eats with the Avent bottles just fine BUT my lactation consultant suggested we try the Dr. Brown's bottles because Hunter was having a little trouble. Hunter has such an easier time drinking with the Dr. Brown's bottles and we just bought some more. We are still using the Avent bottles as well but Hunter just does so much better with the other ones.
Car Seat Cover – This cover is actually good for more than just covering the car seat. It can be used as a nursing cover, highchair cover or shopping cart cover. If we are leaving the house, this cover comes with us. Anytime we are in public with Hunter, we use this to cover her car seat. I don't want strangers touching Hunter and getting their germs on her so we keep her covered! This also keeps the sun out of Hunter's face! You can use the code "NIC20SCH" to get 20% off your cover!
I hope this helps while making a baby registry! Thanks so much for reading!

Photography by: The McRaes Photography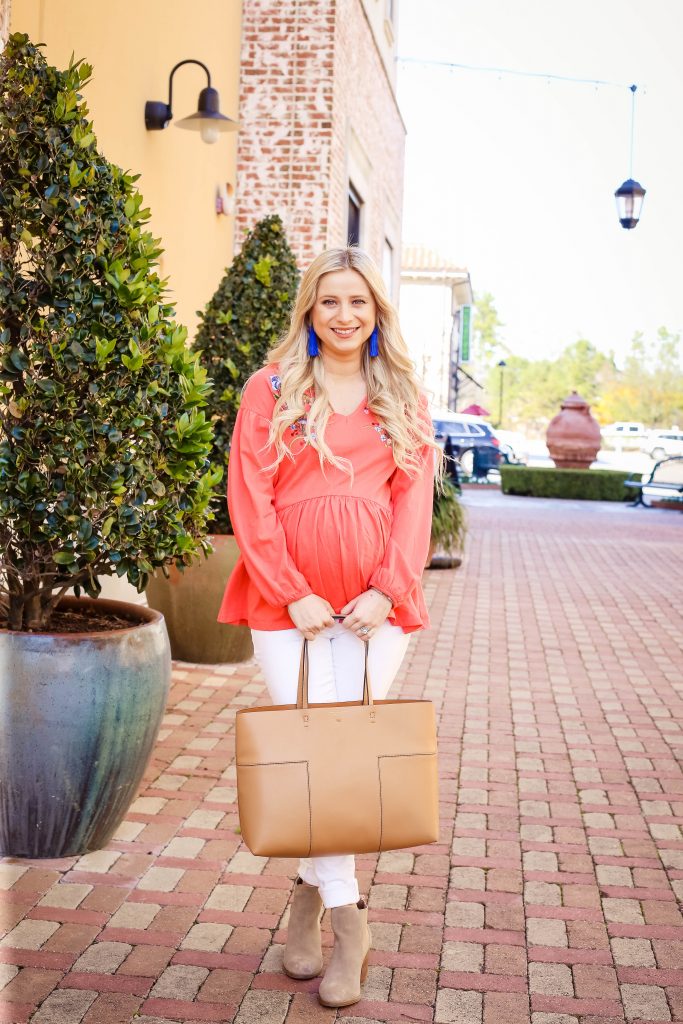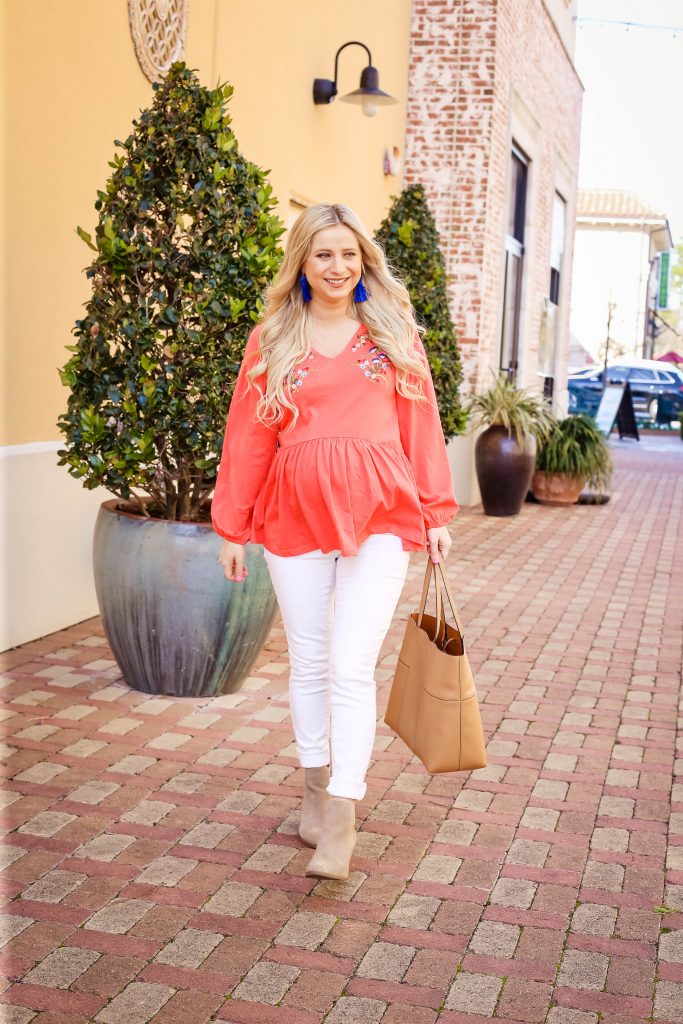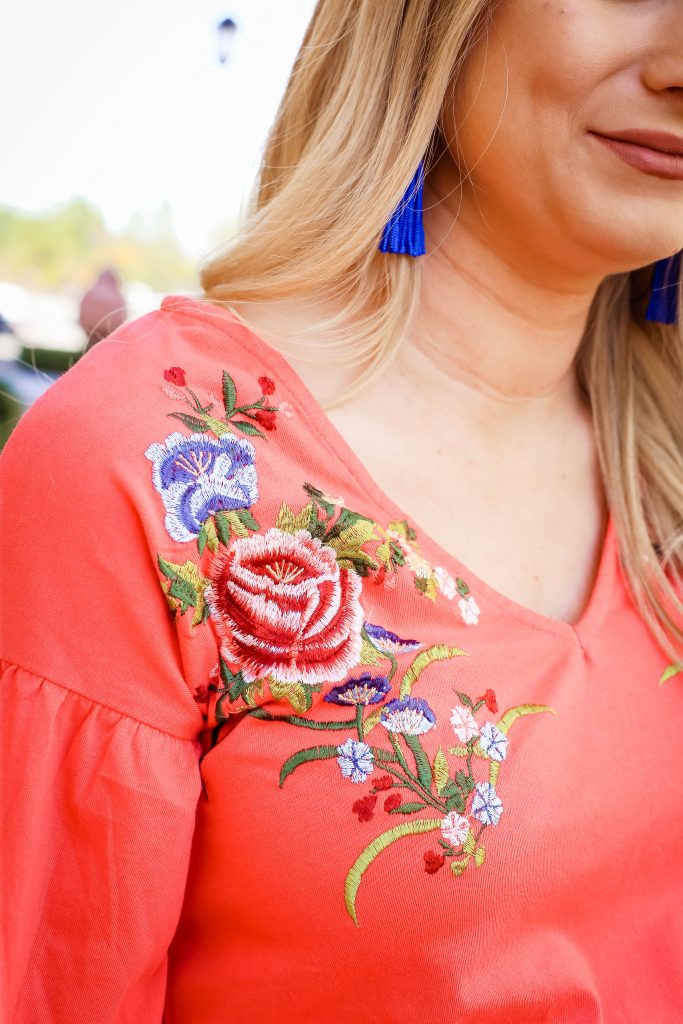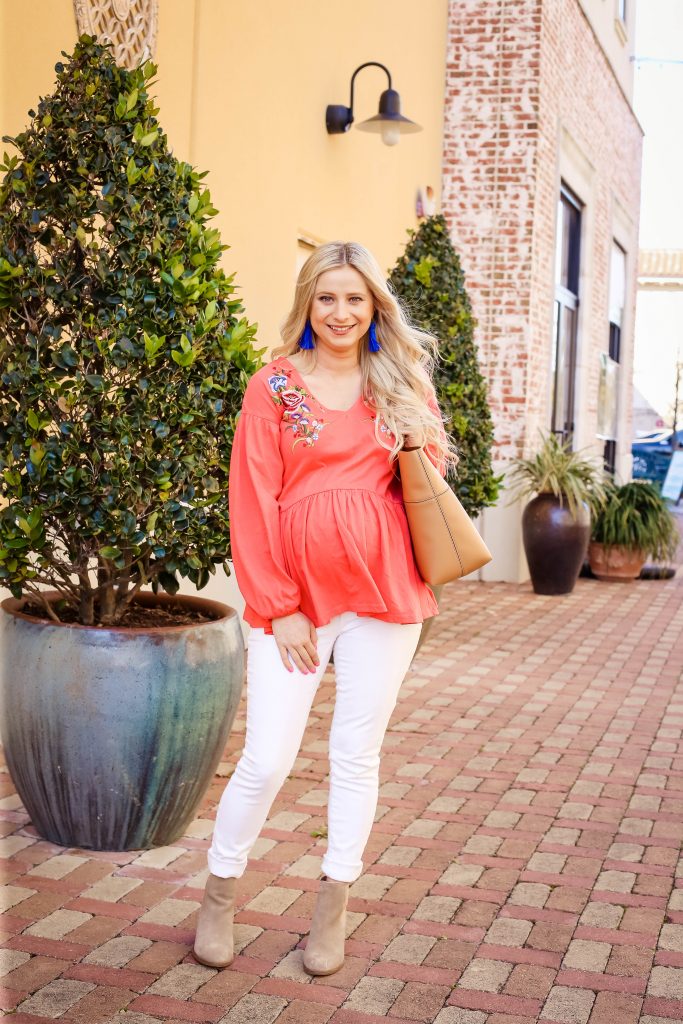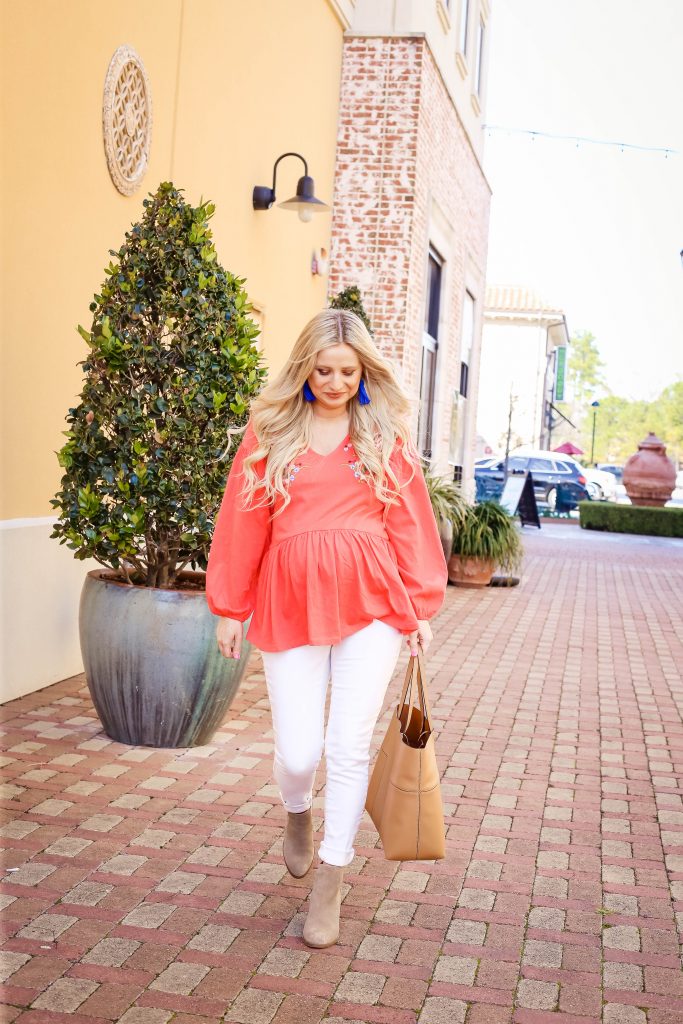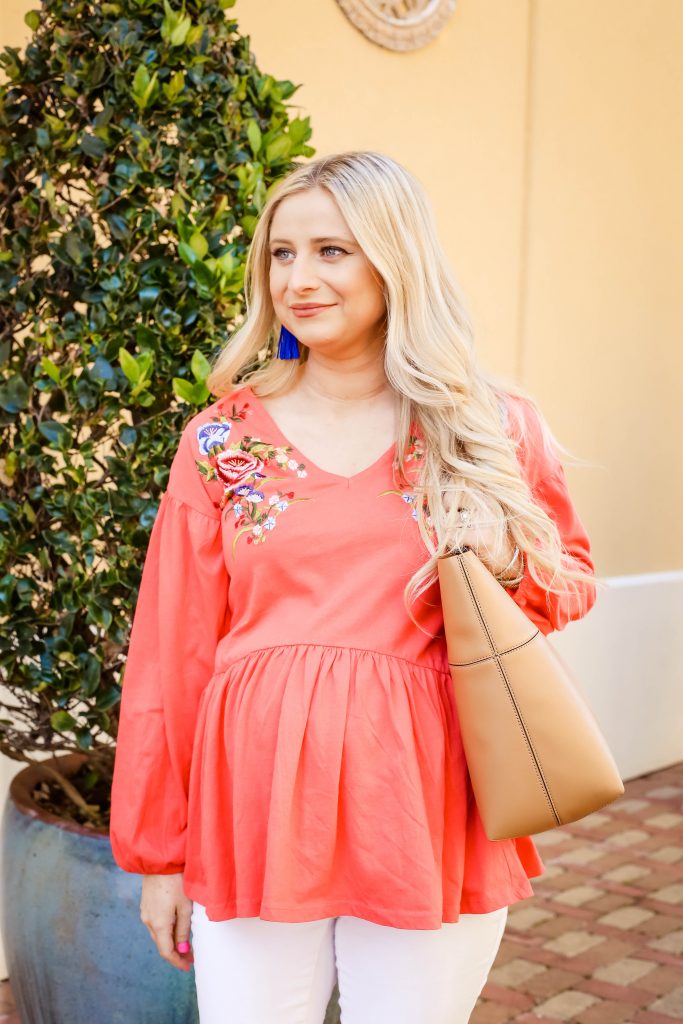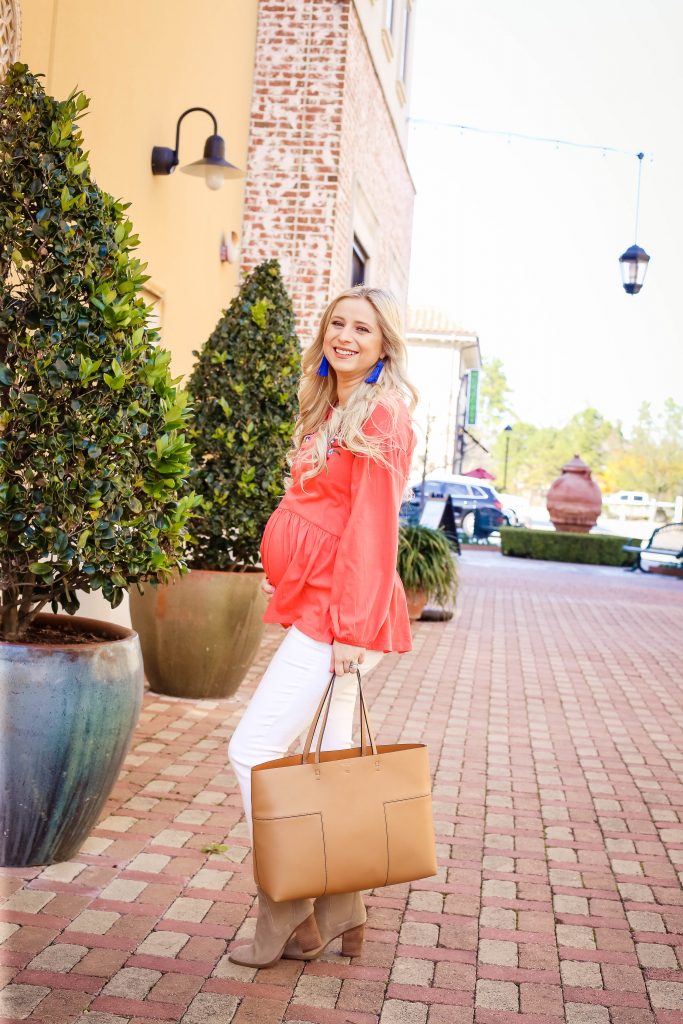 Top: ASOS // Jeans: Maternity, Non-Maternity // Shoes: Steve Madden // Bag: Tory Burch // Earrings: Sugarfix // Lipstick: Whirl
---
Shop my Outfit
---
Shop the Post