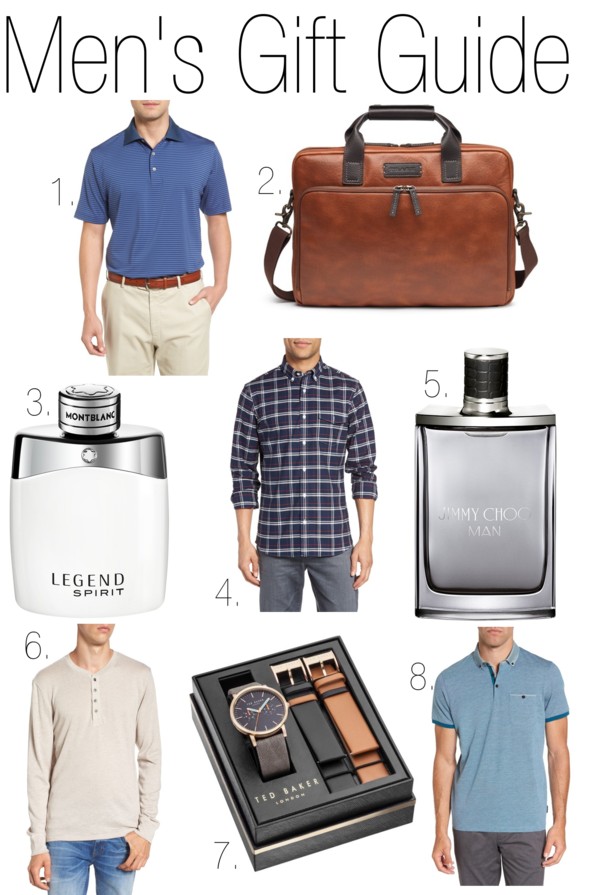 1 // 2 // 3 // 4 // 5 // 6 // 7 // 8
Well I had every intention of getting this post up on Monday but sometimes life happens! I ended up running around all day on Sunday and by the time I even thought about this post, I was ready for bed. Mason's birthday was on Monday and our Anniversary on Tuesday, so we have had a super busy week. It's been busy but so fun getting to celebrate. I thought it would be fun to share some gift ideas for a man in your life, maybe it's your husband, boyfriend, brother or even dad. All of these items are perfect for a birthday or really any holiday. Mason actually chose all of these items so you know they are man approved!
Shirts
Mason picked a few different styles that are all great for different reasons! The collared shirts are perfect for work or happy hour after. The button down shirts can be more dressy for work or relaxed with the sleeves rolled up. Long sleeved henleys are some of Mason's favorite shirts to wear, they're comfortable and look more put together than a plain t-shirt.
Work Bag
Mason has been searching for a new work bag and I love the one he picked! This is the perfect gift because you know it will get used.
Cologne
This is one of my go to gifts when I have no idea what to get my dad or Mason. He has both of these, the Mont Blanc and Jimmy Choo, they both smell amazing! You can't go wrong with either of these.
Watch
I personally love Ted Baker watches, I bought Mason one last year for his birthday. This set is so great because it's basically three watches in one! The different color bands make this watch so versatile and perfect for anything.
I hope this helps if you're looking for something to buy for a man in your life. I know it can be challenging to buy for the guys. Thanks so much for reading!!

---
Shop the Post