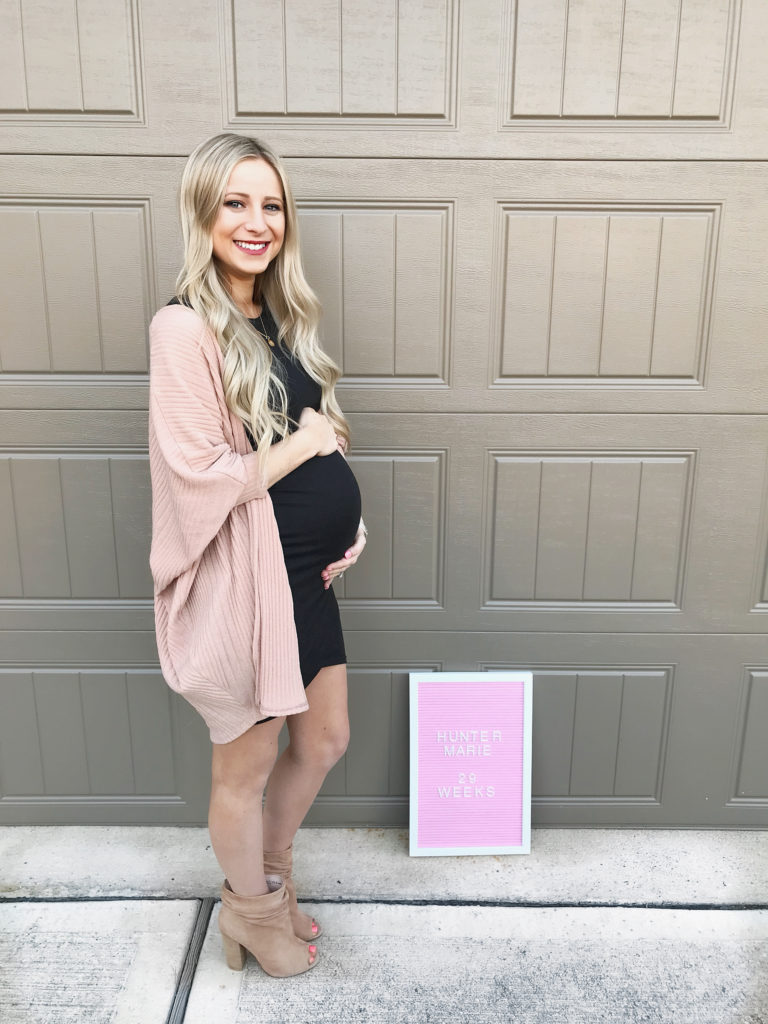 Hi loves, happy almost Thanksgiving! Can't believe how fast this year and my pregnancy are flying by! I wanted to share a little bumpdate with you guys. I feel so blessed every time I write one of these posts. We can't wait until our sweet little girl is here and we finally get to hold her! Only 11 more weeks to go!
How far along: 29 weeks! It's so crazy to think that I'm already in the third trimester! The time is seriously flying by and with the holidays coming up, time is about to go by even faster.
What are we most excited about next: We got to see our little babe in our 3D ultrasound two weeks ago which we were so excited about!! She has the cutest little nose y'all. It's so surreal that you can kinda get an idea of what your baby looks like from an ultrasound. She also has absolutely no hair 😂 I had no hair until I was around 2 so this isn't surprising one bit, that's why we will have lots of bows! I'm getting excited about baby showers! I can't wait to spend time with my family and friends and spoil our little girl!
What are we least excited about: Lack of sleep!!! I'm getting very uncomfortable which makes it more difficult to sleep and when I can't sleep…. Mason can't sleep. I'm such a brat and toss and turn which then wakes Mason up as well. (Sorry Mason!!!)
What I miss: Being able to lay on my stomach and back. I never thought i would miss something so simple, but it's the little things. Selfishly I also miss my wine!
Belly Button: On it's way out! I think I MAYBE have a few more weeks of it slightly being an innie still. So strange how your belly button changes!
Size: Well Hunter is a big girl 😂 she's in the 93rd percentile for head size. *Moment of silence for my body* Overall she's around the 60th percentile. This is so crazy to me… I was in like the 8th percentile… big difference compared to Hunter! She's measuring about 2 weeks ahead in size.
Movement: She's a crazy girl! Constantly moving and kicking. She's been kicking me in the ribs which is super uncomfortable. She is most active at night… of course. Sometimes when she moves, you can see my entire stomach shift, so strange! I absolutely love feeling her move though, it's something so special that I will never take for granted.
Cravings: Nothing crazy so far! Mostly just sweets still… cookies and candy are my best friend. I have to limit myself because I could go to town on some cookies.
Weight Gain: 18 pounds so far. I'm right on track where my doctor wants me to be but gaining weight is definitely something I won't ever get used to.
What I'm Reading: I'm the worst mom to be. I have yet to read anything, I do plan to read something but can't decide what. Suggestions are greatly appreciated!
Nursery: Making progress slowly but surely! We just hung some decor on the wall and it's coming together. I am still on the hunt for a glider… y'all those things are expensive. I love how many options are online but I'm nervous that it won't be comfortable if I order online. Suggestions for gliders are also welcome!
Items:
I can't stop buying cute baby girl clothes when I see them.. someone please make me stop.
Freshly Picked Moccasins… seriously so cute y'all. Little baby shoes just kill me.
Belly buds from WavHello, which are the coolest thing! They are little headphones that you can put on your belly and play music or recorded messages to baby. By using the Belly Buds, you can safely play music to your womb! They also have an app where you can have family members  or friends record messages and play them for baby! I think this is the coolest thing and having her move while she hears your voice just melts my heart. If you use my link above, that will give you 15% off your Belly Buds!
We bought this pregnancy pillow a while back and it has been a lifesaver. Seriously don't think I would be able to sleep at all without it.
We received our stroller – the Chicco Urban stroller and I love it! I did a lot of research before I registered for a stroller. I really wanted one that had the option of being a bassinet and this one does! It has 6 different positions for baby. As soon as it came in, I wanted Mason to put it together! It's super light and easy to push as well. The car seat we are registered for can pop right into the stroller base which I think is going to be amazing.
Thank you so much for reading and following along during my pregnancy! Your kind words mean the world to us!

Dress: Nordstrom // Shoes: Nordstrom
---
Shop the Post