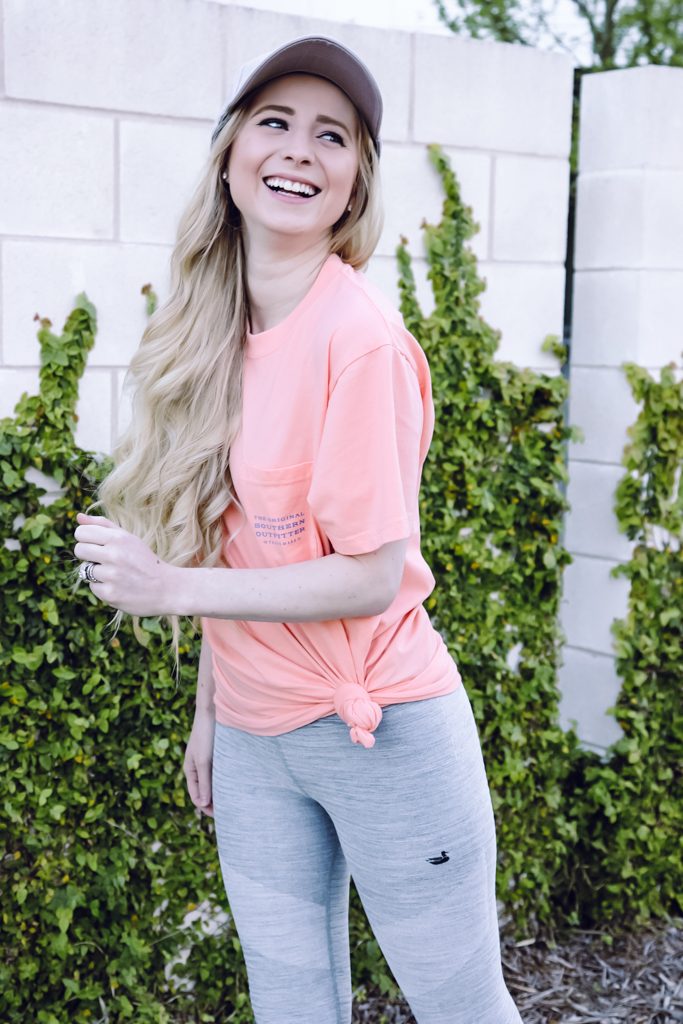 Happy Monday friends! It's a fresh start to the week and I know that you may require a few extra cups (gallons) of coffee but it's a new week! Not only is it a new week, but a new season! Spring officially started last week and I'm so excited to bust out the bright colors. I love brightening up my wardrobe when the weather gets a little warmer or if in my case and you live in Houston, a lot warmer. Warmer weather means cute shorts and sundresses… on occasion at least. I like to pretend that I have everything together and dress up everyday but real life is, I live in leggings and comfy tees! Don't we all? That's why I'm super thankful that athleisure is a thing. More often than not, my good intentions of working out just turn out to be a family walk or a trip to target, but hey, that's okay with me. Comfy life is the best life.
If you've followed me for a while, then you know one of my favorite brands is Southern Marsh, it's a family favorite! They just launched their spring collection and it has all the goods! I have to start with my favorite piece of my outfit, THESE LEGGINGS! 😍The Brooke Leggings are amazing, they are so smooth, they feel like butter on! As we all know, not all leggings are created equally but these leggings are amazing. They're super flexible, so they're perfect for working out in, if that's your thing 😉or for just running errands in. They suck you in, in all the right places and are very flattering on, which is hard to find in leggings. I found my favorite pair of leggings and now have to convince Mason that I need them in light blue as well! They're that good!
If I had to count the amount of Southern Marsh tees we have in our closet, I think we could start our own store. At least I can't solely be blamed for this but I have done my fair share of damage! Good tees are an essential to any wardrobe and once I find something I like, I stick with it! Southern Marsh tees are so soft and I'm so particular about my t-shirts, probably a weird quirk of mine but whatever, I like what I like. Their tees are my favorite and they have so many colors! I love this Trademark Duck Tee in the peach color for Spring and Summer! I also threw on a hat with this look because not all days are good hair days. I love throwing on hats when I'm out and about or just don't feel like fixing my hair. I have a bad feeling that this hat is going to end up on Mason's side of the closet though, so I might need to hide it from him. I love finding neutral hats so that I can wear them with anything.
I'm going to be wearing this entire outfit on repeat all Spring long! Maybe, one day I'll actually make it to the gym in it, a girl can dream. I love sharing casual looks with y'all like this one because it's what I live in! Thanks so much for reading!

This post was sponsored by Southern Marsh. As always, all thoughts and opinions are 100% my own. Thank you for supporting the brands that support Blonde in the Burbs!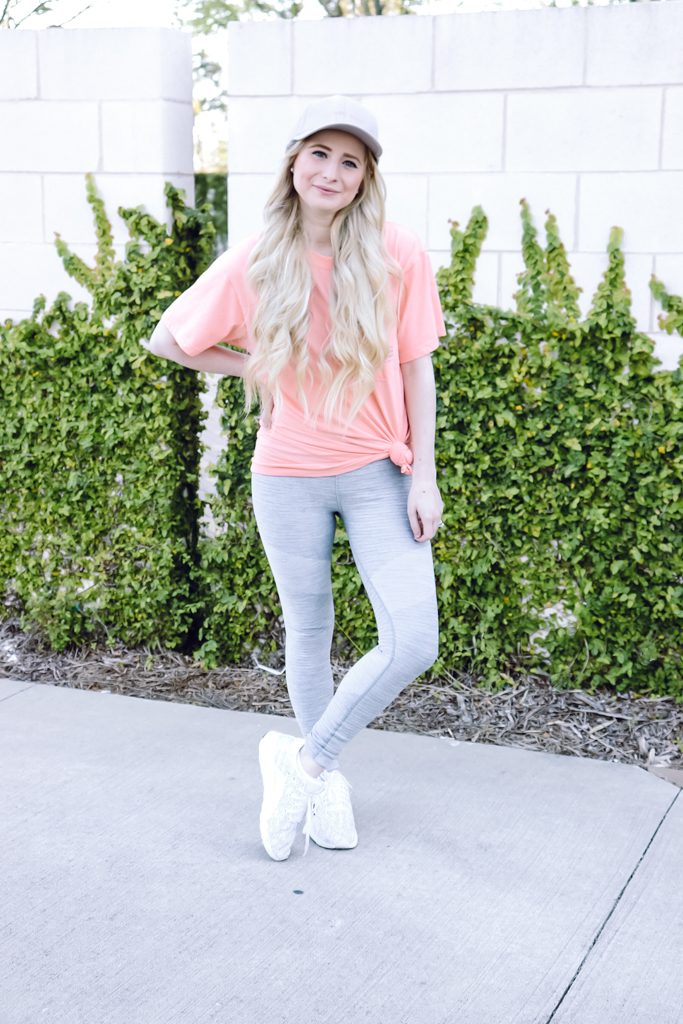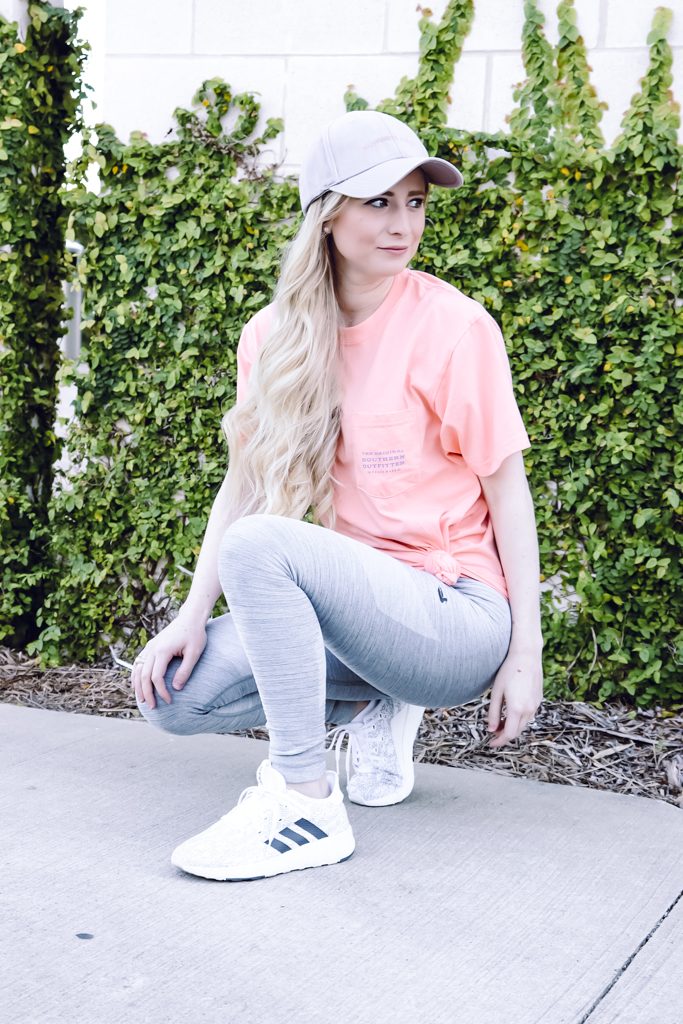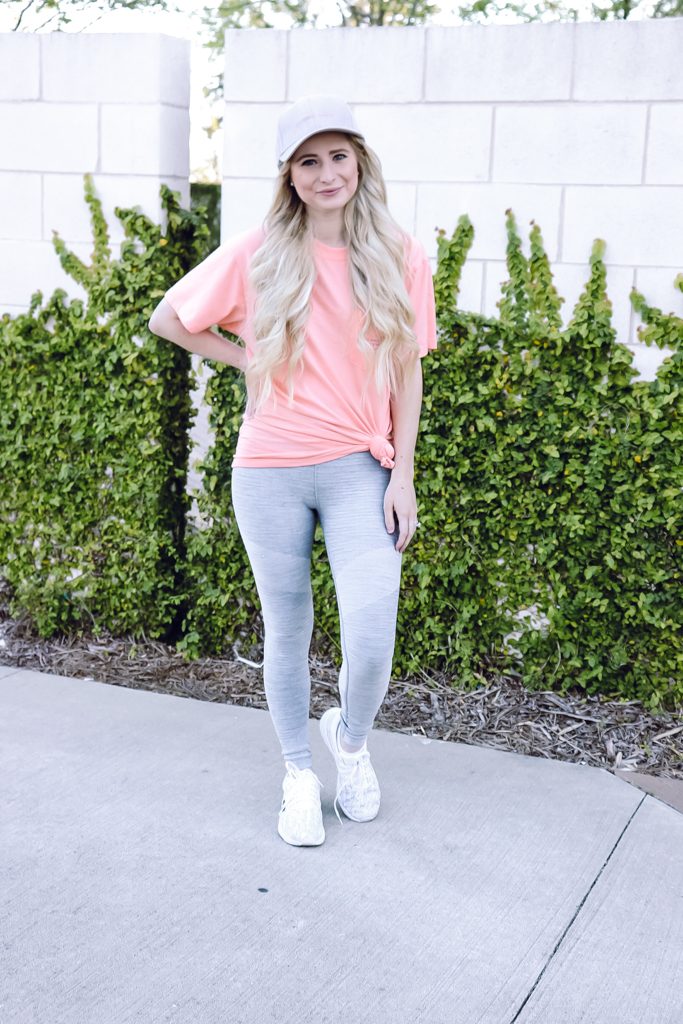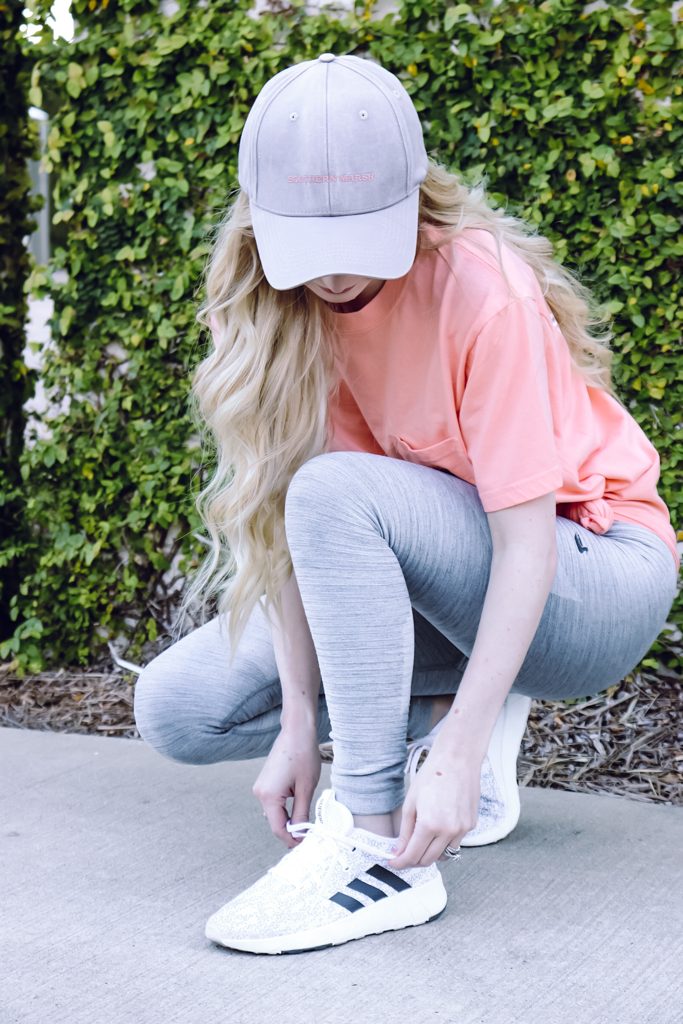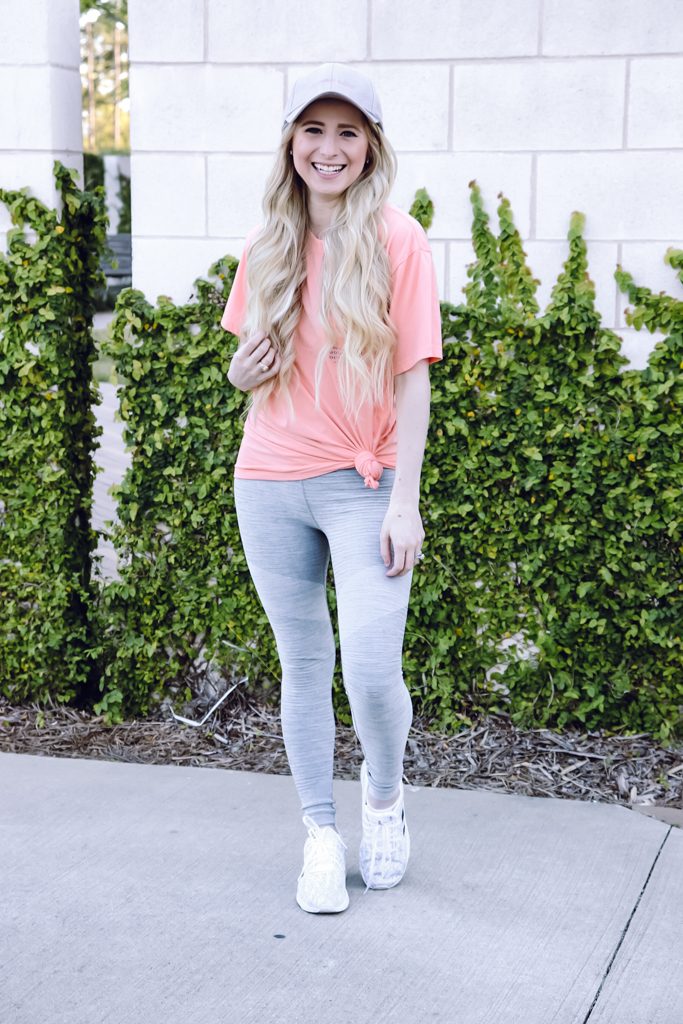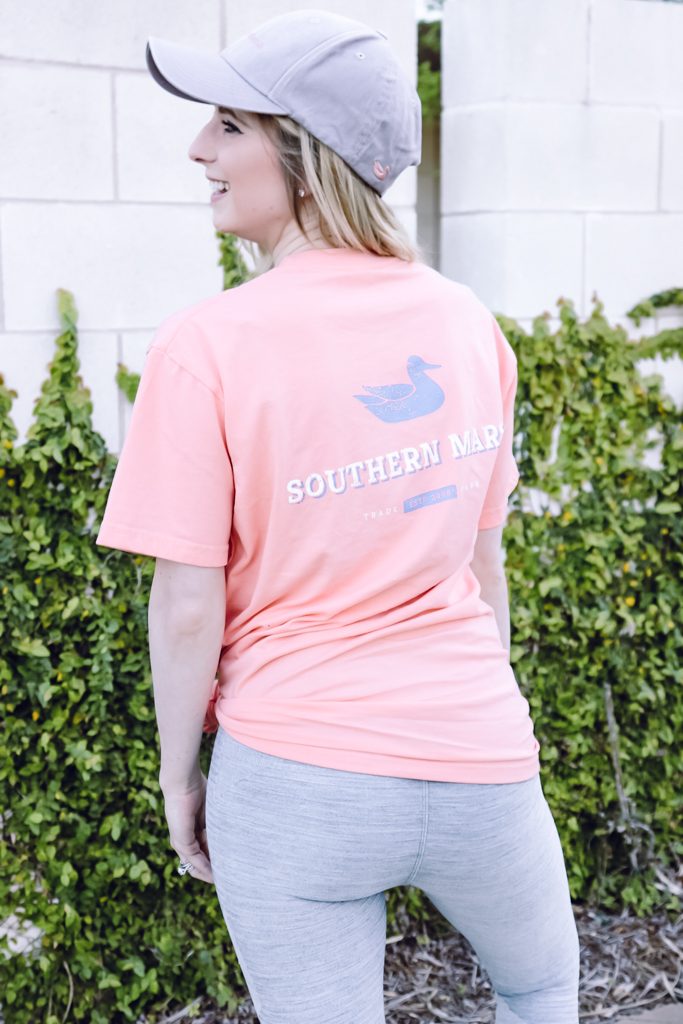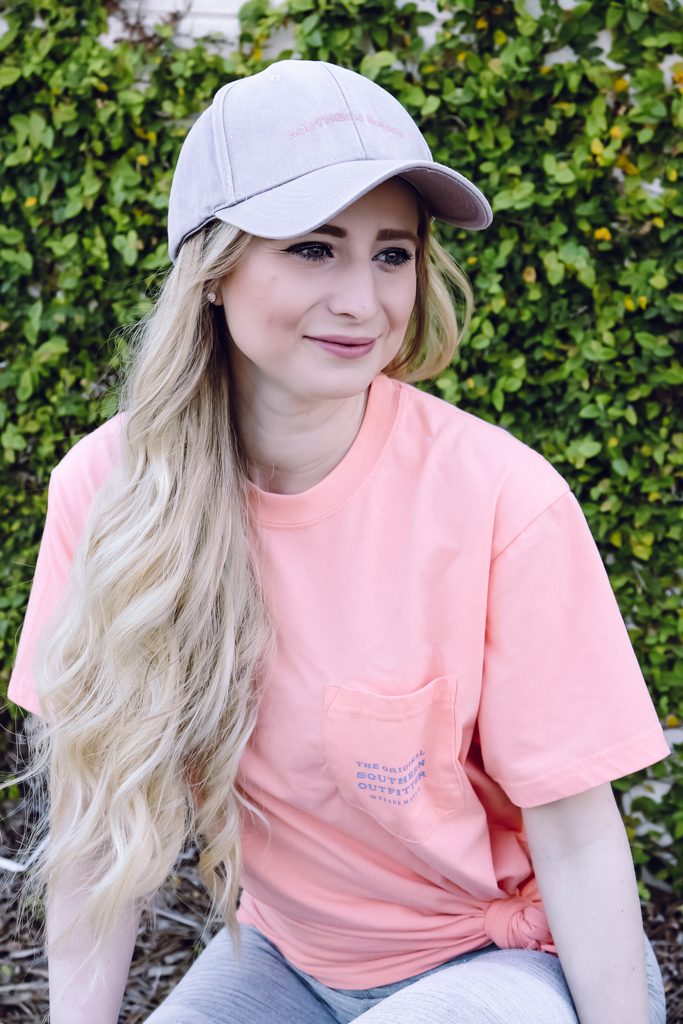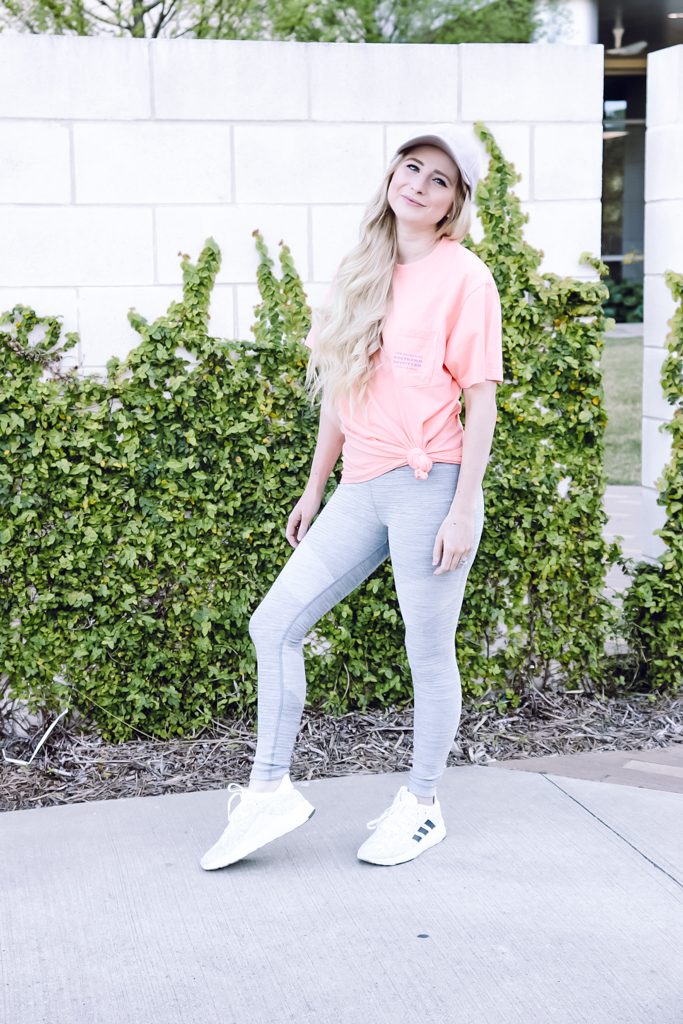 Brooke Leggings // Trademark Duck Tee // Traditions Washed Hat