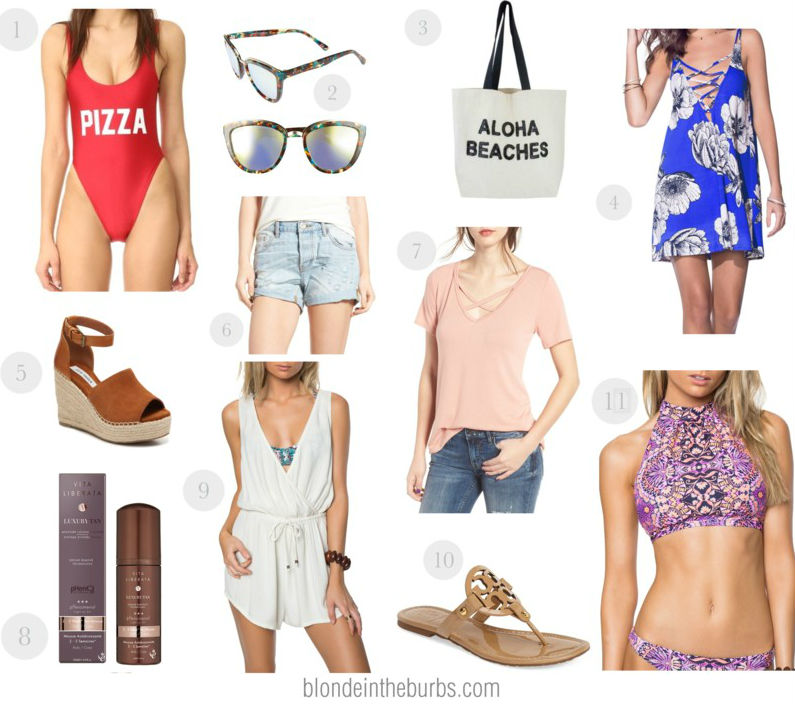 1 // 2 // 3 // 4 // 5 // 6 // 7 // 8 // 9 // 10 // 11-top // 11-bottom
Working an office job and not getting a Spring break is the worst. If you're still in college and get a Spring break, SOAK IT UP. Many of my friends are teachers and still get the break and I am super jealous. Instead of enjoying myself on a beach somewhere, I'm just pretending that I'm getting a tan by opening up my office window. Totally the same thing right? Even if you aren't lucky enough to score a Spring break, we can pretend we have one with these amazing finds. Here's my picks below!
1. Pizza Swimsuit: Lately I have really been loving one pieces, especially this one. I love anything that is related to my favorite food and this suit is on sale. What more could you want? The higher cut on this swimsuit will make even the shortest legs look longer (definitely a plus for us petite ladies).
2. Sunglasses: A girl can never have too many sunglasses. I'm obsessed with cat eye sunnies and these look good on every face shape.
3. Tote: How cute is this tote? Perfect for putting all the things you bring to the beach that you actually don't need but bring anyways. Three tanning oils? 2 lipsticks? This tote will fit all the necessities plus some.
4. Cover-Up Dress: This cover-up is perfect to throw on after going to the beach and then wear to dinner.
5. Steve Madden Wedges: These wedges are so popular and for good reason. They are versatile and go with everything and are super comfortable. I love mine!
6. Denim Shorts: What would Spring break be without the perfect pair of denim shorts? Stock up on denim shorts now and then you're set for Summer.
 7. Strap Front Tee: I love t-shirts that have a little bit more going on than just a basic tee. This shirt is super soft and perfect for a casual look.
8. Vita Liberata Self Tanner: This is by far the best self tanner that I have ever used. The color develops evenly and does not look orange. This self tanner will get you DARK and it doesn't dry out your skin like some other self tanners. Make sure you apply it with a tanning mitt or the palms of your hands will be nice and bronzed as well.
9. Cover-Up Romper: Rompers are my favorite and this one comes in two colors. I like that it shows a bit of your swimsuit instead of covering everything up.
10. Tory Burch Flip Flops: These shoes are perfect for Spring and Summer and they come in a TON of colors. I currently have them in two colors but will soon be purchasing more. You really can't go wrong with these shoes! You'll love them!
11. Bikini – Top,Bikini – Bottom: The colors on this swimsuit are so different than any other swimsuit I have but I love it. The high neck and the retro pattern really compliment each other.
What are your Spring break essentials? Happy shopping and thanks for reading!

---
Shop the Post