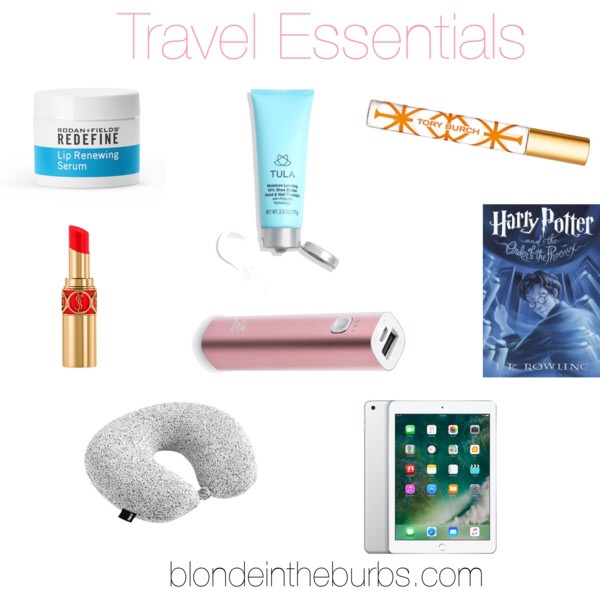 Happy Friday!! But this isn't my usual Friday, I've been counting down until April 21st for a few months. I'm going on vacation! When I entered the working world, I started hoarding vacation days. Vacation days are like a rare commodity now. I've taken a few days here and there since I've started working but haven't really taken a full on vacation so this makes it even sweeter to go on one! Mason and I are traveling to Europe with two of our friends. We are going to Amsterdam, Berlin and one day in Manchester. I'm so excited to share all of my adventures while I'm there with you guys.
Packing for a vacation or even just a business trip can be difficult. I ALWAYS overpack but I've started to get better since I've traveled for work. Almost 90% of the time my bag is overweight or I'm barely pushing the weight limit, I'm talking like .1 pounds under. I have a serious problem y'all. I have learned the crucial necessity of packing a good carry on bag. I've had my luggage lost before and it is NOT fun. I'm going to share some of my travel essentials and would love to hear what your guys have to pack when you're flying.
Flying serious drys out my lips and this stuff is amazing. Normally I just put this on at night and wake up with refreshed lips. I'll put this on during my flight and I don't suffer the severely chapped lips like usual.
Flying not only drys out my lips but it also drys out my skin. It's so easy to just lather on some lotion when you land but what about your hands? Mine definitely need some special attention. This hand cream is the best that I have found so far. It's not too thick and makes your hands feel like silk.
I always pack a mini perfume in my carry on because after a long flight I feel not my freshest 😂 It makes me feel 100% times better after I put a little perfume on. I'm not obnoxious and I don't spray perfume while on the plane. I wait until after I get off and it makes the world of difference. I personally love the Tory Burch roller perfumes because they smell amazing!
I know I said my lips get super chapped when I fly and then putting on lipstick probably doesn't help. If you use the serum and then lipstick it's okay or at least that's what I tell myself. I like to pack a nude or a light pink so and just swipe some on when I land. My favorite lipstick lately has been YSL in Lingerie Pink, it goes on so smooth and is not drying at all. Adding just a little bit of lipstick makes me feel put together even if I am suffering from major jet lag.
Phone Charger and a Portable Charger
I always bring both a phone charger and a portable charger. I know most planes have outlets now but not all of them. I want to be prepared with a portable charger just in case I'm on a plane without an outlet.
People now just read books on their iPads or Kindles but I really love reading from a real book. Reading from an iPad is great because you could have numerous books on your trip but it hurts my eyes. That makes me seem so old! I'm currently re-reading Harry Potter and y'all it is so much better the second time around.
This is my saving grace on flights especially when I don't have a window seat. I love window seats for one reason and one reason only, I can lean against the window and fall asleep so easily. Lately I have had to book last minute flights and haven't been so lucky. I found the most amazing neck pillow and it has been a saving grace. I've tried so many neck pillows and this is by far my favorite.
Remember when I just said I didn't like to read on an iPad? Well I like to pack my iPad for different purposes like watching my favorite shows and movies. I know that so many planes have your personal screen to watch movies but what about Netflix? That's when the iPad comes in handy. Give me wifi and I'm good to go!
I could go on and on about my favorite travel necessities, like I said, I always overpack. I can't wait to share all the details about my trip. What are your favorite travel items? Thanks so much for reading!