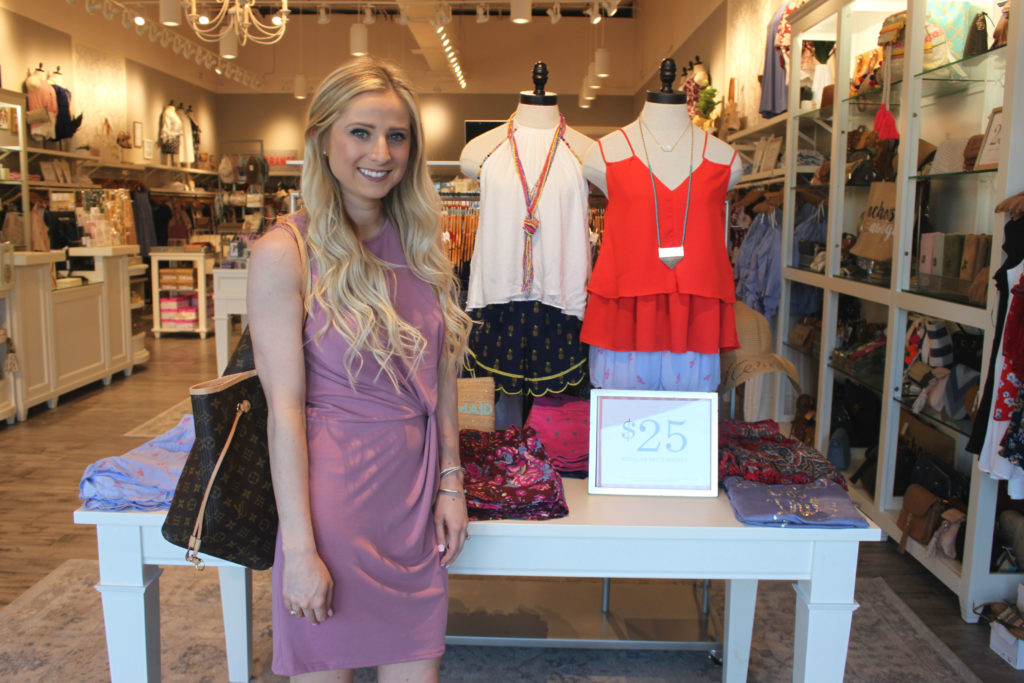 If you ladies have been following my style, then you know that francesca's is one of my favorite places to shop. I can never leave the store empty handed. I will go in looking for a dress for an occasion and leave with 5 other items as well. Not only do they always have the cutest clothes and accessories, they have the best sales! I will use any excuse to drag my husband to go shopping. As soon as I heard that francesca's was re-opening three of their Houston stores, I knew I had to go check it out.
I visited the Champion Forest Plaza location and y'all, it is amazing! The store has been completely redesigned with a new boutique concept. The new store is so bright! I'm a huge fan of a bright white and airy atmosphere and they nailed it. The new neutral color scheme really brings the focus to all the colors in the clothing and accessories. Everything was so organized and it was so easy to find what I was looking for. I really loved how all the displays style an entire outfit. Sometimes I will find a shirt or romper that I love but have no clue what accessories I should pair with it. They make it so easy to style an entire look by having them on display.
After recovering from my initial heart eyes moment 😍 over the new store concept, I browsed the clothes and wanted to try on so many different things. I really had to limit myself or I might have left with the entire store. The new dressing rooms are so stinking cute. For one, the dressing rooms are so big and welcoming. Normally If I can avoid going into dressing rooms, I do but these new dressing rooms had me excited to try on my selections. I could have stayed in them a lot longer and tried on one hundred more things but I think that might be excessive, maybe. Not only does francesca's have cute clothes and accessories but they have home decor and gifts. If I ever need a last minute gift for someone, francesca's is always my first stop.
I loved the new store concept and I know that you guys will too. I had the best shopping experience and both of the ladies that were working when I went in were so helpful! They set me up with a dressing room while I was still browsing and helped me pick the cutest accessories to pair with my outfits. I would like to thank francesca's for inviting me to visit the new beautifully designed store, I had the best time and it was the perfect excuse to go shopping! I can't wait for you ladies to check out the new boutique concept!

Thank you to francesca's for sponsoring this post! As always, all thoughts and opinions are 100% my own. Thank you for supporting the brands that support Blonde in the Burbs!