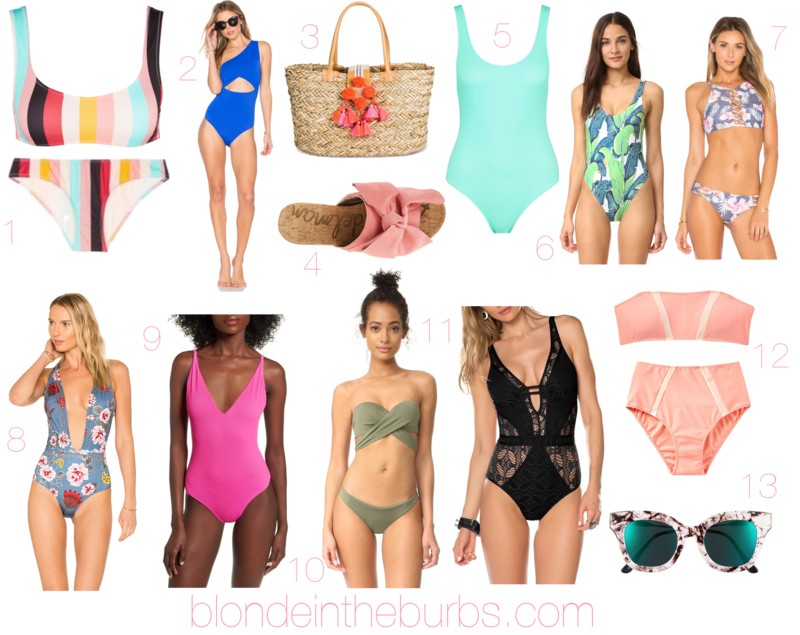 1 [bottoms] // 2 // 3 // 4 // 5 // 6 // 7 [bottoms] // 8 // 9 // 10 [bottoms] //11 // 12 [bottoms] // 13
I always like to start buying my swimwear in April/May so the best swimsuits don't sell out. The worst feeling is finding a swimsuit that you absolutely love and then it being sold out in your size. I've had that happen to me multiple times so now I always try to purchase my swimsuits before Summer really starts. I'm trying to convince Mason that we need to book a beach vacation in December during off season so it wouldn't be so crazy busy. By convince, I think he's already on board but we just need to figure out where we want to go. We are thinking Mexico, so if you guys have any suggestions for all inclusive resorts, I would love to hear them!
I rounded up my favorite swimwear and a few extra summer pieces. I love that one pieces have made such a come back. I recently tried on some swimsuits at the mall and all I wanted to try on was one pieces! They make the cutest cuts now and I can't get enough of them. However, my love for bikinis will never go away and I found some great two pieces all at different price points. What type of swimwear do you guys prefer and where is your favorite place to purchase them?
Another summer essential is the perfect tan! I've been using the Tanceuticals CC Self Tanning Body Lotion in Dark and it works wonders! It develops to the perfect bronze color and smells amazing. I also have been using the face lotion and it's so light and goes on smooth. If you're looking for a self tanner, this is the one to try! Thanks for reading!

---
Shop the Post