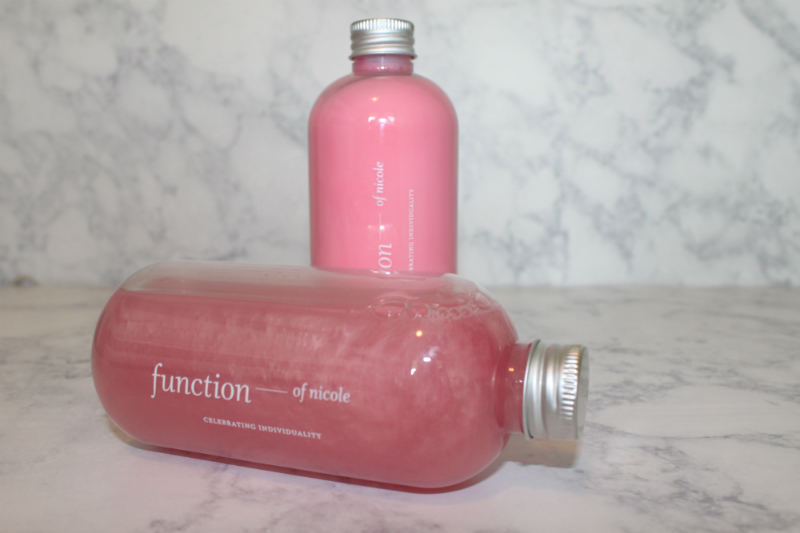 I hope everyone had the best Fourth of July week and enjoyed some time off work! I know I did! The extra long weekend gave me some time to pamper myself. I love a good bath bomb and face mask when I have time. I love trying new beauty products probably because I'm a product hoarder. But I have found a great new beauty concept that I'm so excited to share with y'all! I typically have a few shampoos and conditioners in my shower at a time. I would alternate using between them because they all offered different things. However this means that my shower is overrun by products (sorry Mason)! That is until I came across Function of Beauty.
If you're not familiar with Function of Beauty, I'll give you the quick rundown. Function of Beauty offers both personalized shampoo and conditioner. You start the personalization process by filling out a hair quiz on their website. They first ask some basic questions about your hair type and then you pick 5 hair goals. The 5 hair goals that I chose were: deep condition, color protection, thermal protection, hydrate and anti aging. They have so many hair goals so choosing just 5 was hard for me! Then comes the fun part! You get to brand the bottle with your name, pick the color and pick the fragrance. I obviously chose pink as the color and went with the cucumber mint scent. It smells amazing! When you receive your package with the shampoo and conditioner, they also recommend how often you should use the products based on your answers to the hair quiz. I love how personalized the entire experience is and you feel like the product is made especially for you, which it is!
I have been using the shampoo and conditioner the past few weeks and I am obsessed. My hair has been through a lot, I color it regularly and being blonde is not easy on your hair. My hair sometimes tends to be on the drier side but this has helped drastically, my ends aren't so sad and dry. I love that the products are tailored to my personal hair needs and they all can be met with one shampoo and conditioner. The bottles also come with a pump, I love how easy the product comes out! I couldn't be happier with my Function of Beauty products. A set of shampoo and conditioner starts at $36 which is pretty comparable to any high end beauty products. The price point is even better when you think about the fact that you're getting two products for the price. I'm glad I am able to cut back on my shower clutter and have healthier hair! Have any of you ladies tried Function of Beauty before? Thanks so much for reading!

Thank you to Function of Beauty for collaborating with Blonde in the Burbs for this post! As always, all thoughts and opinions are 100% my own. Thank you for supporting the brands that support Blonde in the Burbs!