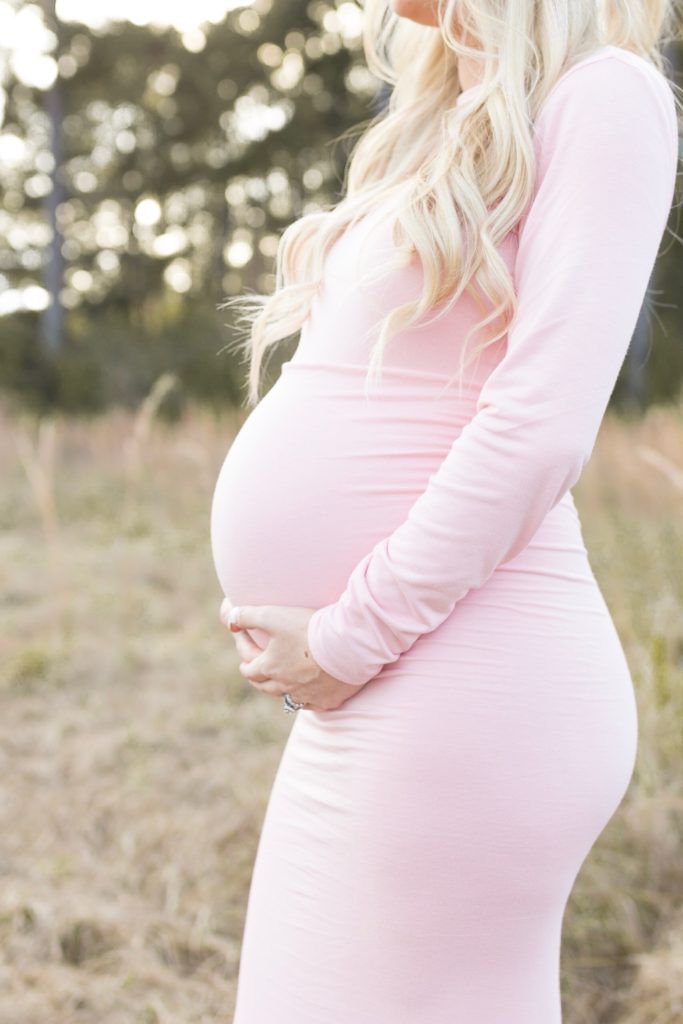 It's hard to believe that we only have a few days left in 2017! This year has truly flown by. I am now at the point in my pregnancy that I go to the doctor every week, Hunter could come any day now! I just went to the doctor yesterday and she is head down, ready for her arrival. My OB was joking that the fireworks might put me into labor, so crazy to think that she really could make her arrival at any point now. I would like her to stay in for at least a few more weeks, so let's hope! As I approach the last few weeks of my pregnancy, I thought I'd share a bumpdate!
How far along: 34 weeks! Only 6 (maybe) more weeks to go. I remember what it was like when we found out I was pregnant and she was just the size of a poppy seed.
What are we most excited about next: Finishing up her nursery and getting to meet her, of course! We have been working on the nursery slowly but surely. Her light was just installed this weekend and it's so cute. I can't wait to share pictures with y'all once it's complete. Mason and I are constantly imagining what Hunter will look like. I can't wait until we get to hold our sweet little girl for the first time. It's such a crazy feeling loving a little baby so much and we haven't even met her yet.
What are we least excited about: Still lack of sleep lol and labor. These haven't changed one bit. My OB was going over the stages of labor with me and was talking about how contractions are like something you've never felt. Just thinking about that is scary.
Movement: She is still moving quite a bit! Not as much as she had been because she is running out of room. She likes to kick me in the ribs which is painful. She wiggles around, I think trying to get comfortable and it's the cutest thing.
Cravings: I'm at the point where I can't eat as much because I'm out of room. I still like to eat my cookies and brownies though. This sweet tooth is no joke! The sugar also makes Hunter a little wiggle worm which is so funny.
Weight Gain: 22 pounds, still right on track with what my doctor wants me to gain. I'm already (attempting) to plan my workout post baby.
How I'm Feeling: I feel good other than just being tired. I'm so tired all the time and get worn out super easily. A trip to target is like running a marathon right now. I'm uncomfortable because this tiny human is taking up so much space! I have had to start sleeping kinda propped up to be as comfortable as possible, still not great but it has definitely helped with the lower back pain. Somedays I will wake up with super bad back pain, I take all the back rubs from Mason as I can get!
What I've Been Doing: I've had two baby showers, which were both amazing! I'll be sharing some pictures from them soon. It was so fun getting to celebrate our little girl. I've started to wash baby clothes and I just melt. The tiny little clothes are so stinking cute and Dreft laundry detergent just smells like a baby. I couldn't stop smelling her clean clothes, after I've washed a load. We have been working on organizing Hunter's room and Mason has been putting together some baby gadgets!
Things We've Purchased: 
One of my best friends recently took my maternity pictures and I wanted to share one little sneak peek with y'all!! I'll be sharing the rest soon! Thanks so much for reading!
Photography by: Gizeh Romero Photography

Dress: Sew Trendy
---
Shop the Post