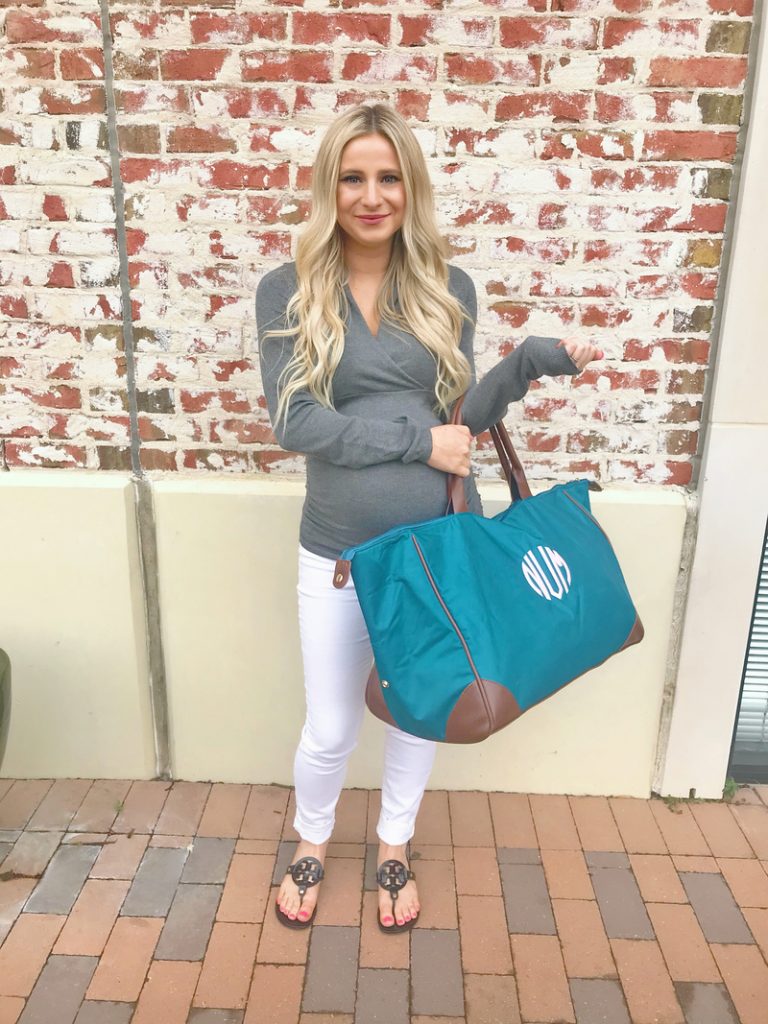 I've had my bag packed for a while now but I keep adding items. I'm sure I have packed WAY too much but I would rather be overpacked than under. Luckily, our hospital is at the front of our neighborhood and is probably only 5 minutes away from our house. So if I really did forget to pack anything important, Mason or one of our family members can easily run by our house and grab it. I have been so indecisive on what I should or shouldn't include in my bag. I think I finally have done enough "research" aka reading some of my favorite bloggers posts on what they packed, to feel like I have everything!
For Baby Hunter:
Coming Home Outfit – I had the hardest time picking one because everything is just so adorable and I wanted to order it all. I finally settled on one from Lollipop Kids Designs. It was easy to pick this outfit once I saw it because it's pink (duh), monogramed and those leggings warmers!!! I died a little when I found this.
Receiving Blankets / Swaddles – I know the hospital will have some for us but I of course had to pack some cute ones. We also plan on having someone bring some of the blankets that have been on Hunter back to our house for Winston to smell on and (hopefully) prepare for baby, so I wanted plenty. I packed this personalized swaddle and hope to get some pictures of baby girl swaddled on in the hospital.
Pacifiers – On our hospital tour, they told us they would have pacifiers for baby but we could bring some if we wanted. I decided to include this in our bag so she will get used to the pacifiers that we have at home for her.
Socks – Hospitals are always so cold and with the Houston weather being unpredictable, I wanted to pack some to keep those baby toes warm.
Bassinet Name Banner – I was sent the cutest name banner from Love Stitched for Hunter's bassinet in the hospital!
For Me:
Pajamas –  I packed a few comfy options so that I feel more like myself and less like a hospital patient. I made sure that everything I packed is nursing friendly!
Slippers – I purchased these slippers a while back and they have been one of my favorite purchases ever!! They're so comfortable and my feet are ALWAYS cold so I need to have something on them at all times.
Robe – I knew I wanted to have a cute robe in my bag to wear while we take some pictures in the hospital. I think this is a great alternative to the hospital gown that I'll be rocking.
Nursing Bras – I packed a few options because it's hard to know what I will actually end up liking. The bras that I packed for the hospital are more like bralettes because I doubt I'll want to wear an actual bra in the hospital.
Toiletries – Nothing exciting about this one but I included some essentials. Shampoo, conditioner, body wash, face wash, tooth brush, lotion, chapstick, etc.
Makeup – I know this may seem like a silly item to pack but including some light makeup will make me feel more like myself and not to mention look a lot more presentable for some pictures.
Coming Home Outfit – I just packed a few larger t-shirts/thermals and joggers. I have read to plan to be around the size that you were at 6 months pregnant after giving birth, so I wanted to pack some loose fitting clothing. I'm also packing my favorite Uggs because they're my favorite shoes and nothing is more comfortable.
Nursing Balm – After my best friend's experience with the pain that comes along with nursing, I KNOW this is going to be an essential. I'm bringing both the Lansinoh brand and Erbaviva. I want to try both and at this point, who knows which I will end up liking more.
Insurance Card / Forms – I pre-filled out the birth certificate form so I don't have to worry about doing this in the hospital. Funny story, the birth certificate form has a box to indicate if the baby is a boy or girl. I had a moment of panic that what if I'm actually having a boy and I can't seem to check the girl box yet. Mason thinks I'm being ridiculous but that box is still empty!!
For Dad:
Comfy Clothes – Mason just packed some sweats, joggers and t-shirts for while we are staying in the hospital.
Toiletries – Just the same items that I packed! So this one was super easy to cross off the list lol!
Pillow – On our tour, we saw the pull out couch that Mason will be sleeping on… I will say it looks less than comfortable lol He is bringing a pillow from home to hopefully make this couch a little more manageable.
I think that's everything but if I'm forgetting anything, please tell me! Packing this bag got me so excited because the day we get to meet our baby girl is getting so close! PS the top I'm wearing in the pictures is so comfy and is nursing friendly! It's from Kimi and Kai Maternity and you can use the code "nicole20" for 20% off your order. Thanks so much for reading!

Top: Kimi and Kai Maternity (c/o) // Jeans: Jessica Simpson – Maternity, Similar Non-Maternity // Shoes: Tory Burch // Lipstick: Velvet Teddy // Bag: The Royal Standard
---
Shop the Post – Outfit
Shop the Post – Hospital Bag