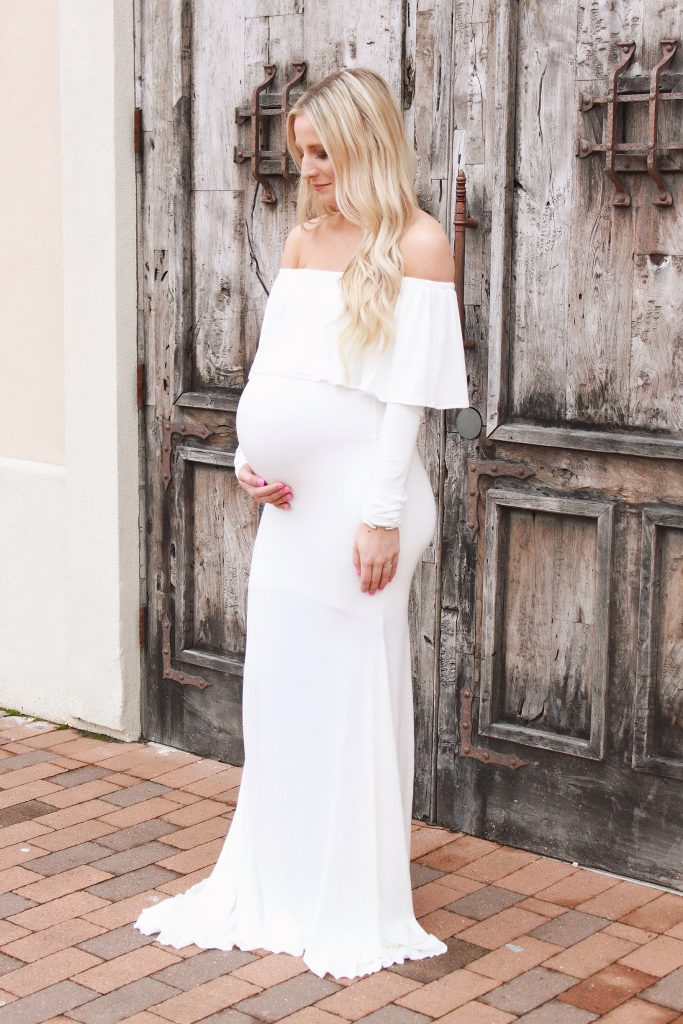 Happy Thursday!! It's crazy to think that is this my last bumpdate for our little Hunter girl. Earlier this week, we scheduled an induction and surprise it's TODAY! I am beyond excited to being SO close to holding our baby. I wanted to give y'all one last update before welcoming Hunter.
How far along: 39 weeks!!! FINALLY at the end. The weeks have been going by so fast besides these past few weeks which have been some of the slowest weeks of my life.
What are we most excited about next: Meeting Hunter!! I constantly think about what she will look like and I just can't wait to see her sweet little face. I'm so excited to hold our girl for the first time.
What are we least excited about: I am glad that being induced is an option for me but I'm not excited about having to wait. I know that some people respond very well to induction so let's hope that I do! I know this process can take HOURS upon HOURS for some women. And like I said earlier, maybe I won't end up needing to be induced, guess we will find out later this week!
Movement: She has calmed down so much which makes me sad sometimes but I know it's just because she has no room. She wiggles a lot but nothing crazy like before. She still kicks me in the ribs… little stinker. Hunter also like to stick her entire hands and feet out.. I will just see something protrude from my stomach.
How I'm Feeling: I have been feeling good besides being tired. I really feel like I could sleep for days. My lower back has been killing me, I think because of how low she is. I also have been getting some contractions but nothing consistent.
Cravings: Still nothing crazy but I still have my sweet tooth. Give me all the cookies and brownies. I also want fruit all the time which is way healthier than my sweet cravings. If only I didn't crave sweets and only craved healthy things. That would be the life right?
Weight gain: 28 pounds.
What I've Been Doing: I had my last day of work this week! My original plan was to work all this week but things change so I actually had my last day of work on Tuesday. Mason and I have been taking it easy and staying close to home. We have been going on walks as much as we can. I'm also trying to catch up on laundry which is a huge challenge for me. I'm the absolute worst at doing laundry. We have been finishing up the last few things around the house and just enjoying these last few weeks with just Mason and I.
What We've Purchased: We haven't bought much recently but I'll share the few items that we have!
The Owlet – I have heard amazing things about the owlet. It tracks baby's heart rate and oxygen levels while they sleep. If anything changes, it alerts you. I'm hoping this will give me at least some peace of mind with a newborn at home. I know that SIDS can be scary so hopefully this will allow Mason and I to feel a little less worried.
Solly Baby Wrap – I really hope that Hunter likes to be snuggled close to me. I have already practiced using this with our little cat. She didn't like it lol but it held her!
Glider – I was so indecisive about which glider I wanted. I was between the one we purchased and another one for the longest time. It was getting a little ridiculous that I couldn't make a decision because we needed to order one to finish up her nursery. I finally just picked this one and I'm so glad I did! I love it! It's not too big and is comfortable.
I can't wait to share baby pictures with you guys. Positive thoughts and prayers for a healthy baby and safe delivery are much appreciated. I have really enjoyed writing these bumpdates and I appreciate y'all following along! Thanks so much for reading!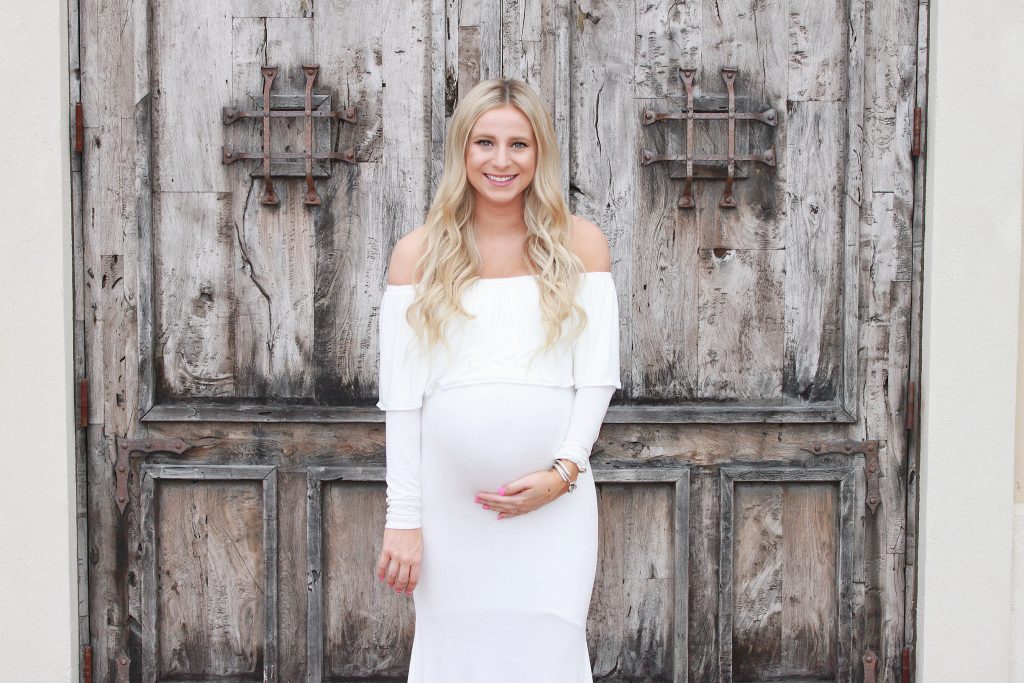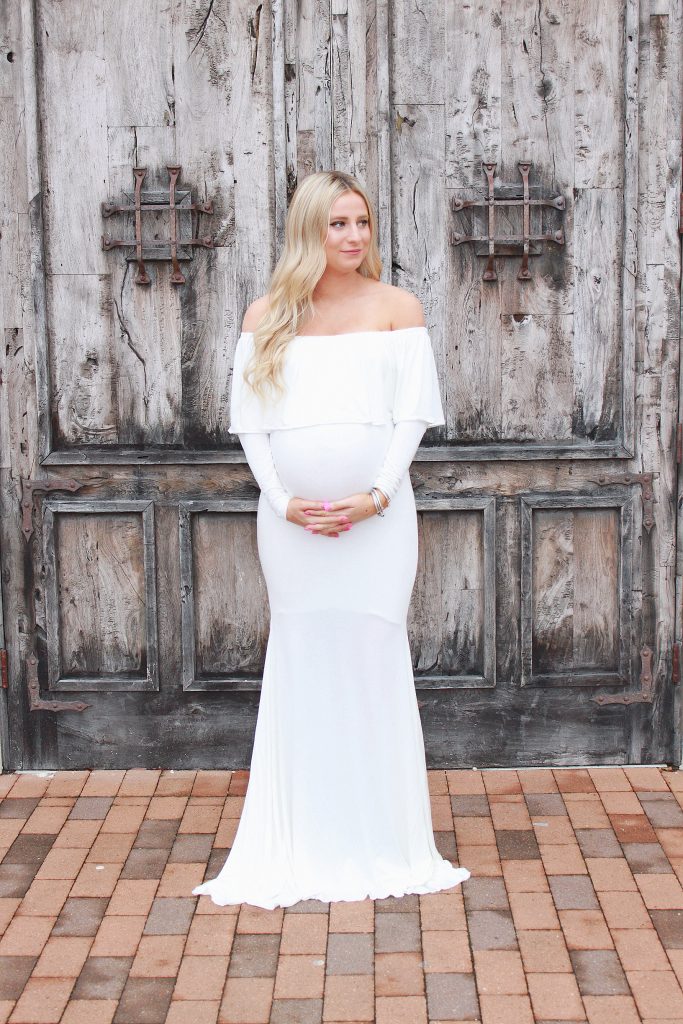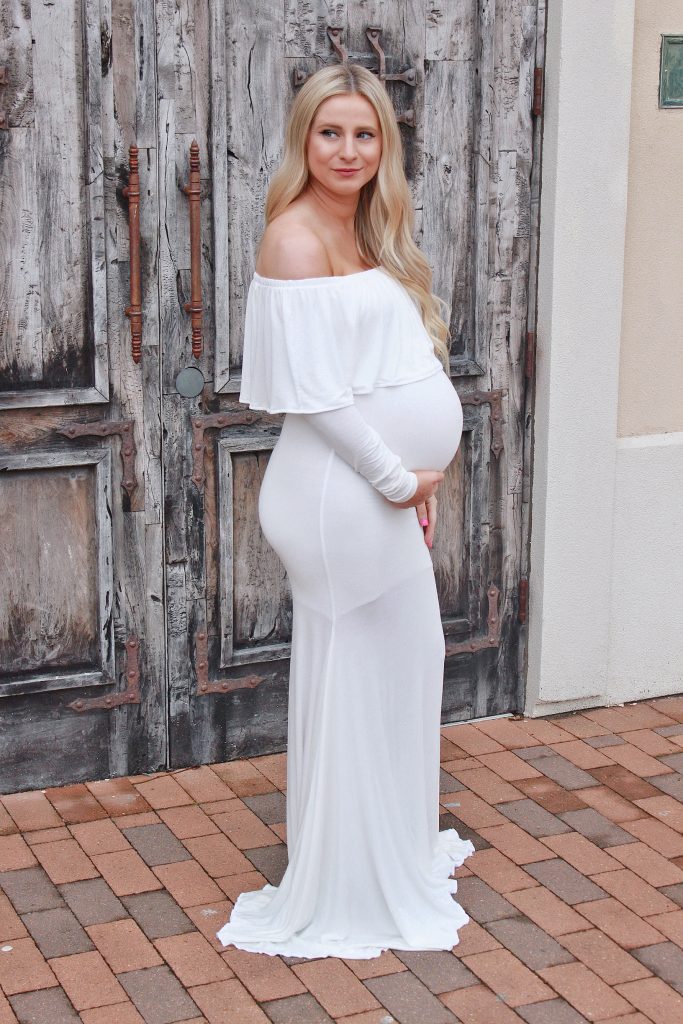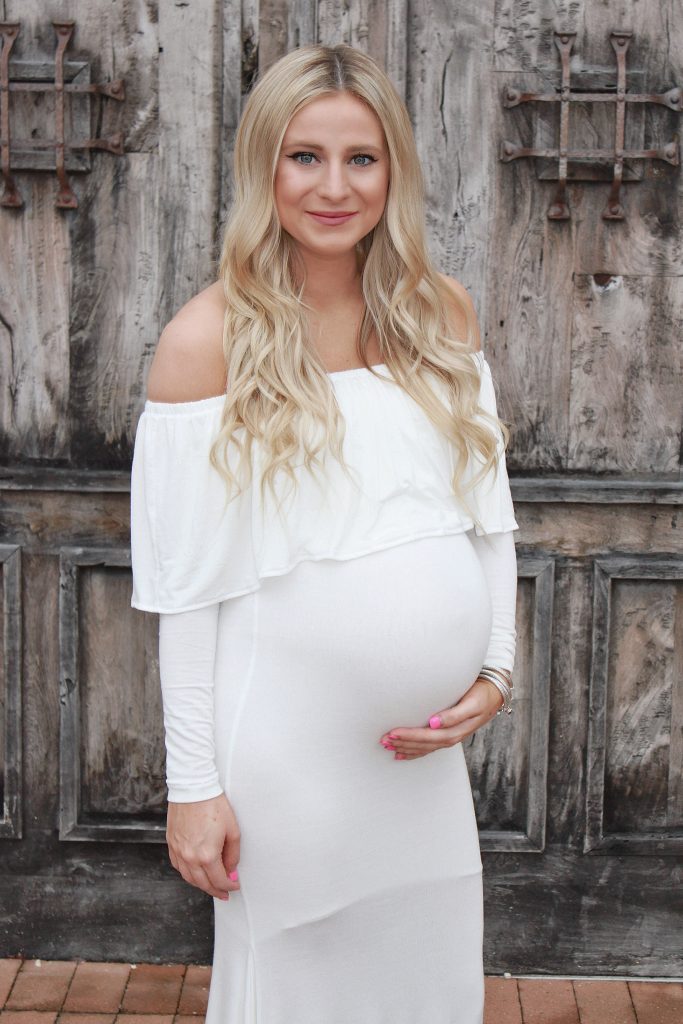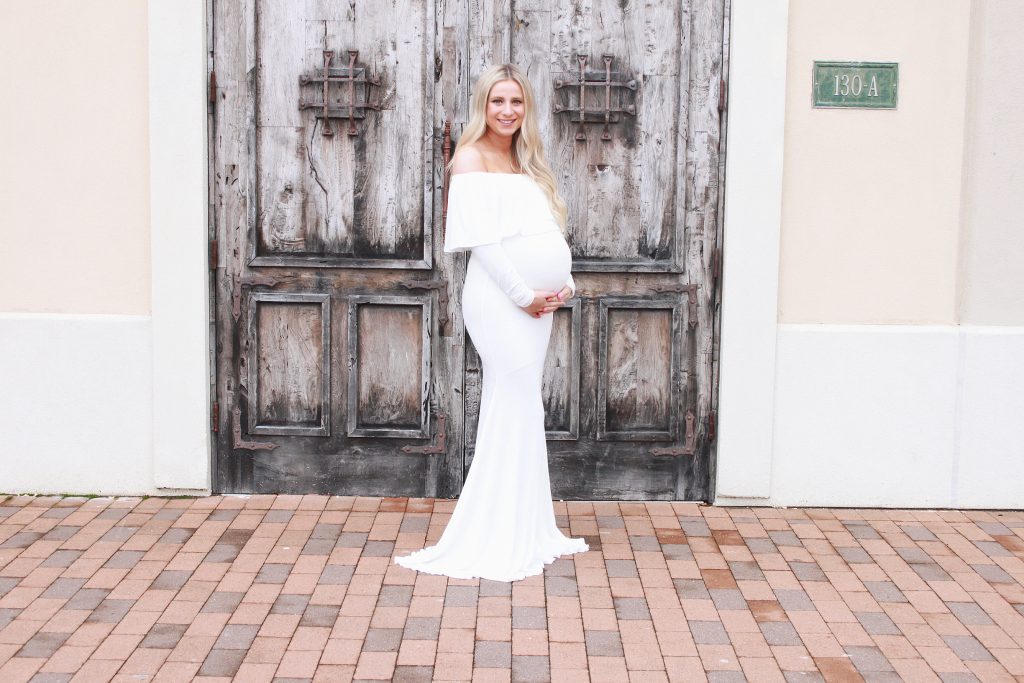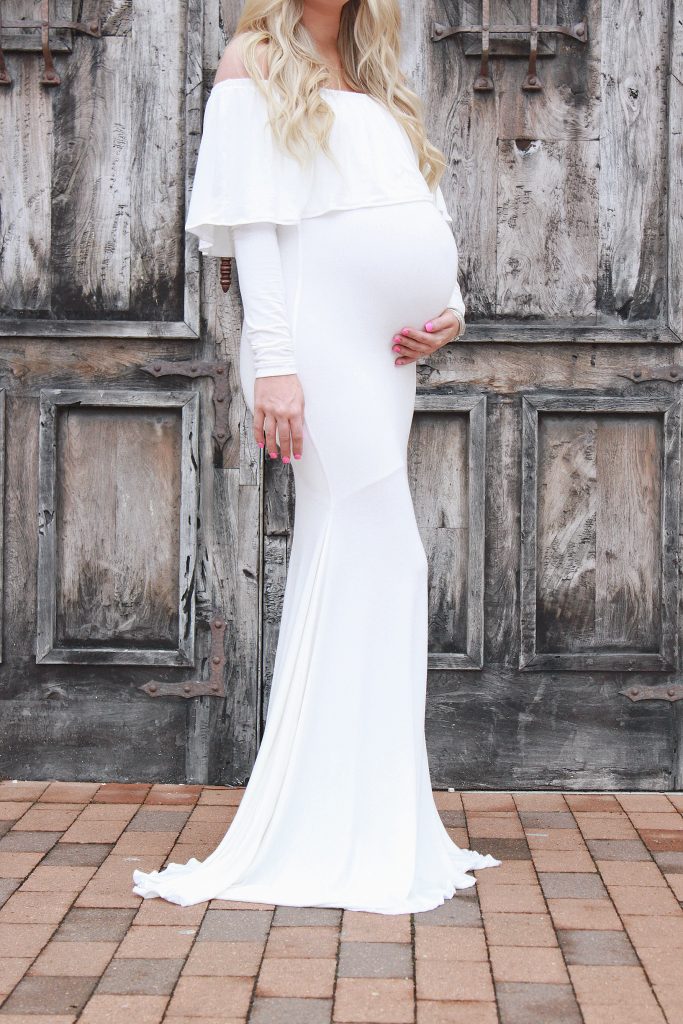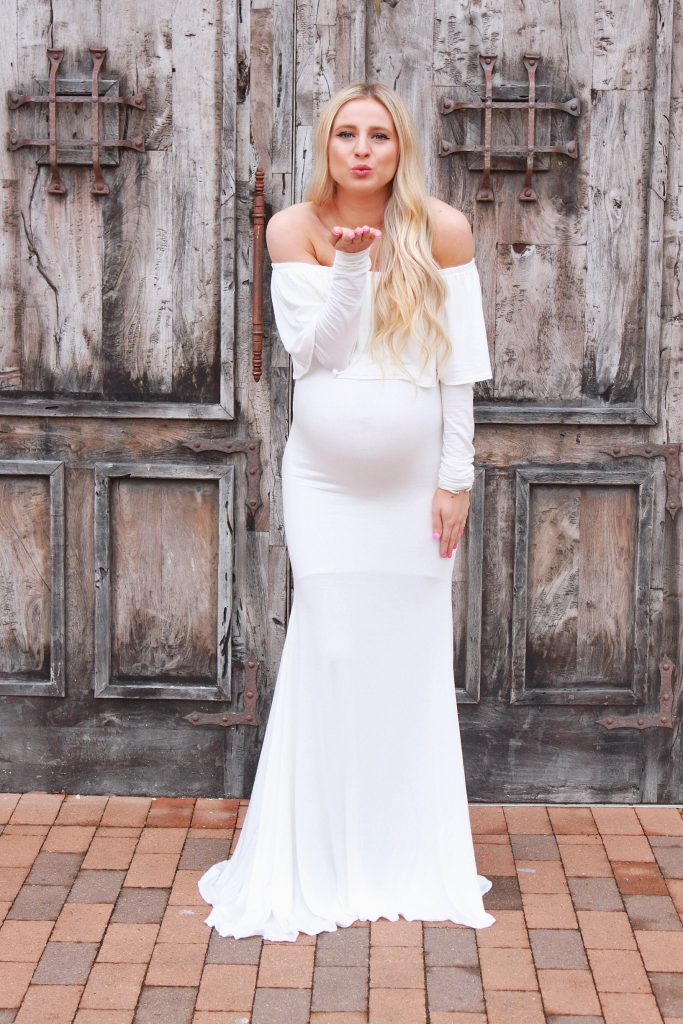 Dress: Sexy Mama Maternity (c/o) // Shoes: Steve Madden // Lipstick: Velvet Teddy
---
Shop the Post – Outfit
Shop the Post – Baby Products