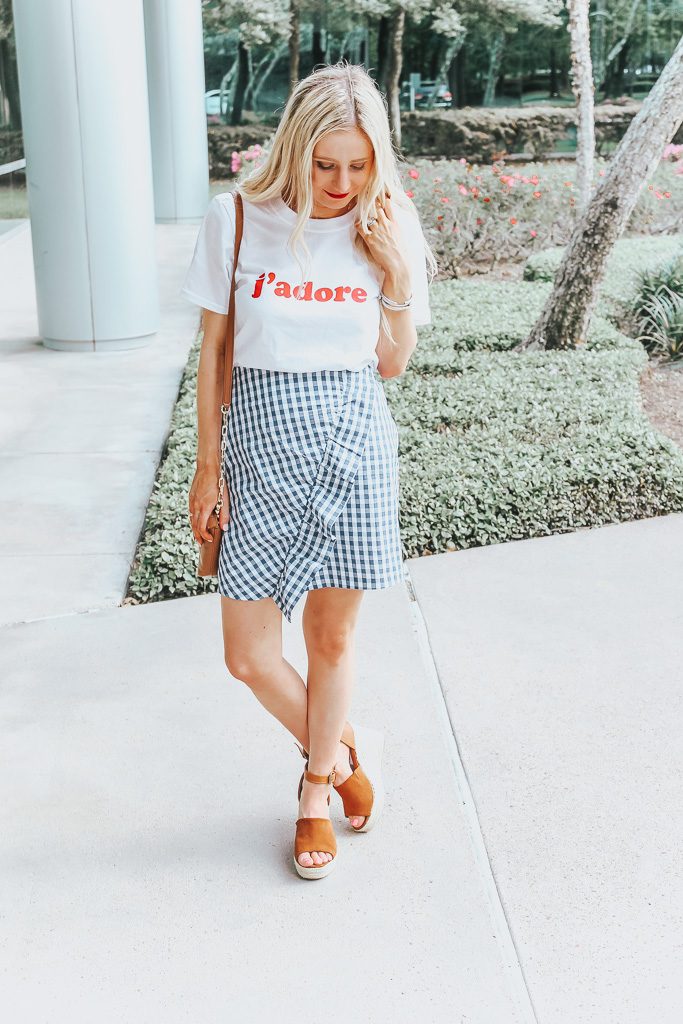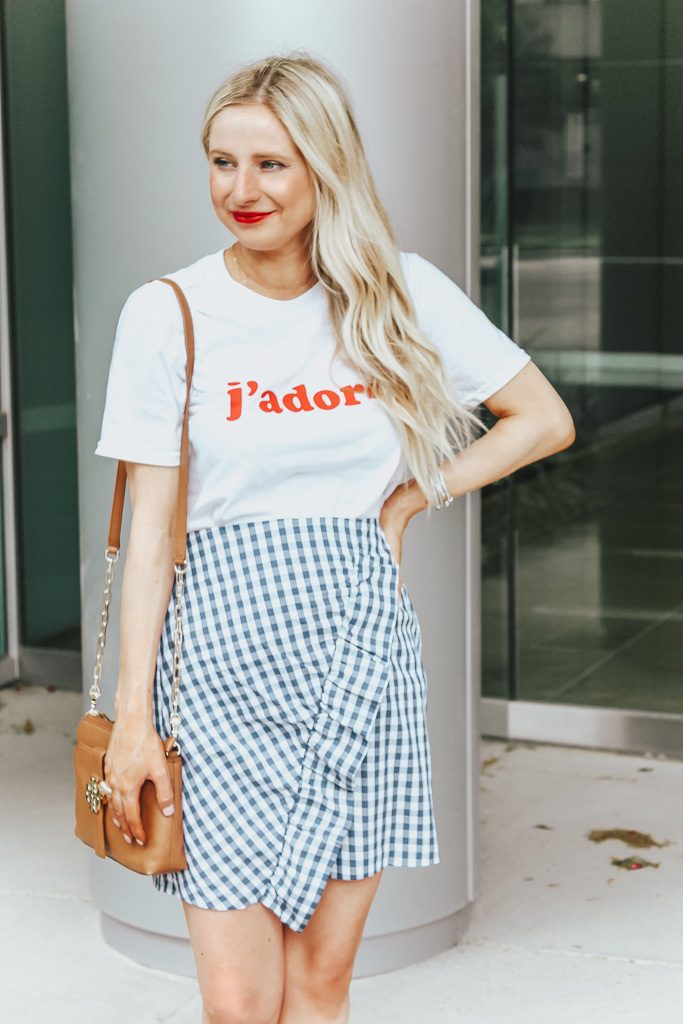 As a mom, I typically wear a lot of t-shirts! Who am I kidding.. I wore t-shirts all the time prior to being a mom as well. I'm a lazy girl and it's so easy to just throw on a t-shirt and call it a day. I'm not talking about an old sorority tee either, although I do wear those around the house pretty much all day, every day. Most of the time I can be pretty casual and it doesn't matter. But what if I want to wear a t-shirt but dress it up a little? Now that's where it gets a little more complicated. I've found a few fool proof way of dressing up your basic tees!
One of the easiest ways to dress up a tee is to pair them with a fun skirt or shorts. I shared these pearl studded denim shorts on the blog a few weeks ago and they're perfect to pair with a tee. Mason and I were browsing Target per usual and I found this gingham skirt. It's only $14 and almost identical to a another skirt that I was eyeing online but this option is WAY cheaper! Gingham is so perfect for Spring and Summer. It is also such an easy pattern to pair with almost anything. I just threw on some heels with this look and now my t-shirt look is ready for any occasion. Okay, probably not any occasion but you get the point! Adding heels to your look while wearing a tee dress the look up as well. I love pairing a cute t-shirt with some skinny jeans and heels. Putting on heels make me feel more put together even if it took me two minutes to come up with my outfit.
Another one of my favorite ways to dress up a t-shirt is to wear a bralette with it but have it peek out a little bit. You can see how I did that here. You can still make this look casual by pairing with your favorite leggings or dress it up by adding some cute shorts or jeans!
I love being able to dress up some of my looks because you can make so many outfits out of basic tees! More looks out of one item means less money you have to spend which is always nice. Thanks so much for reading!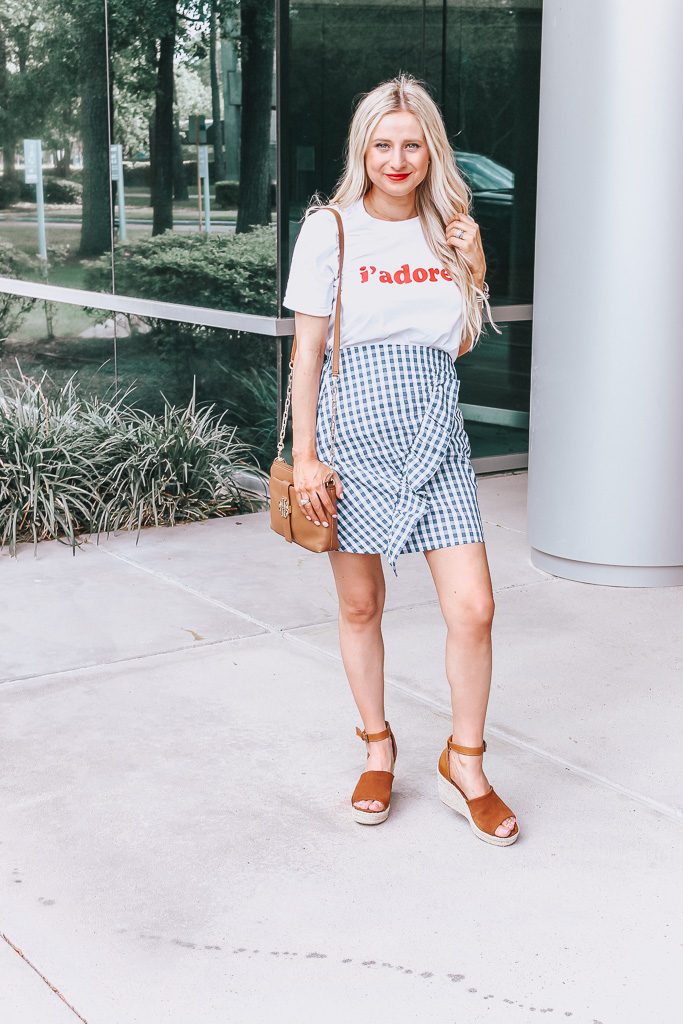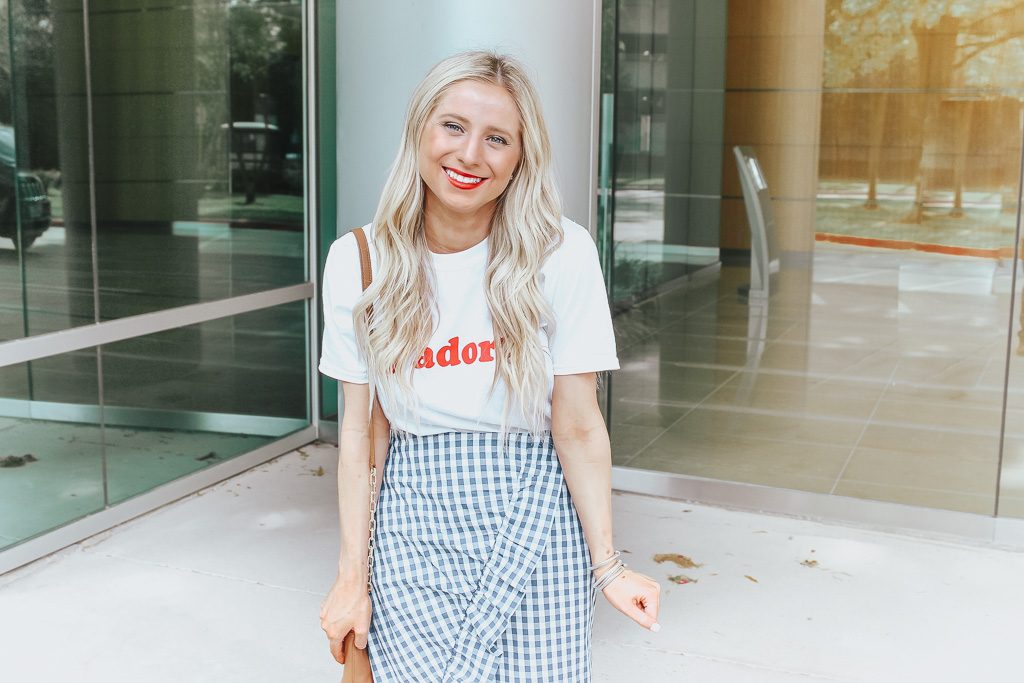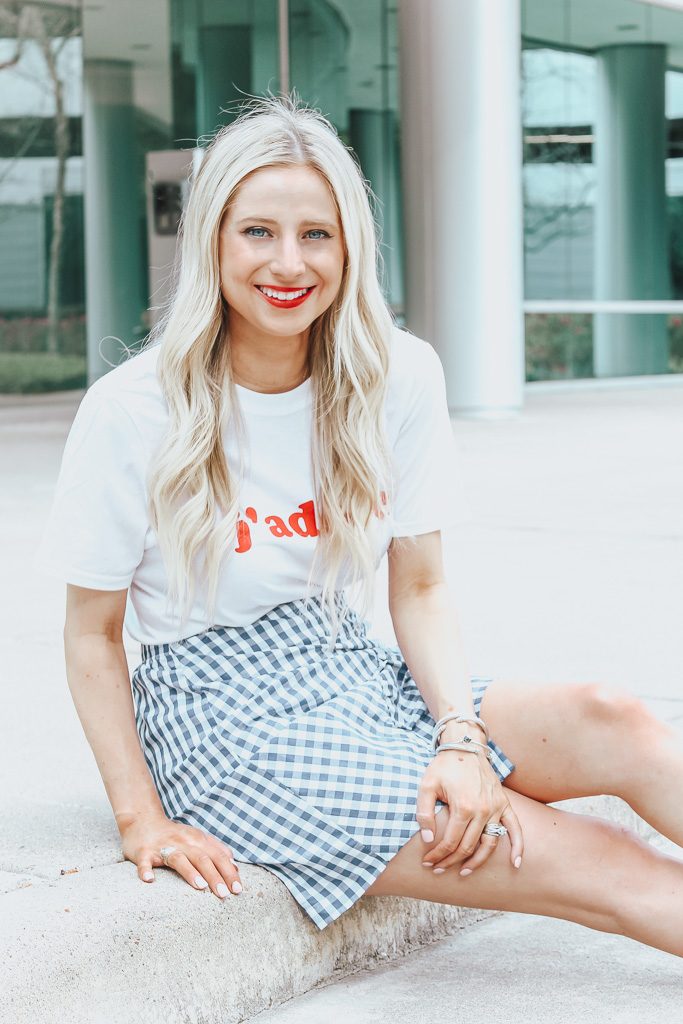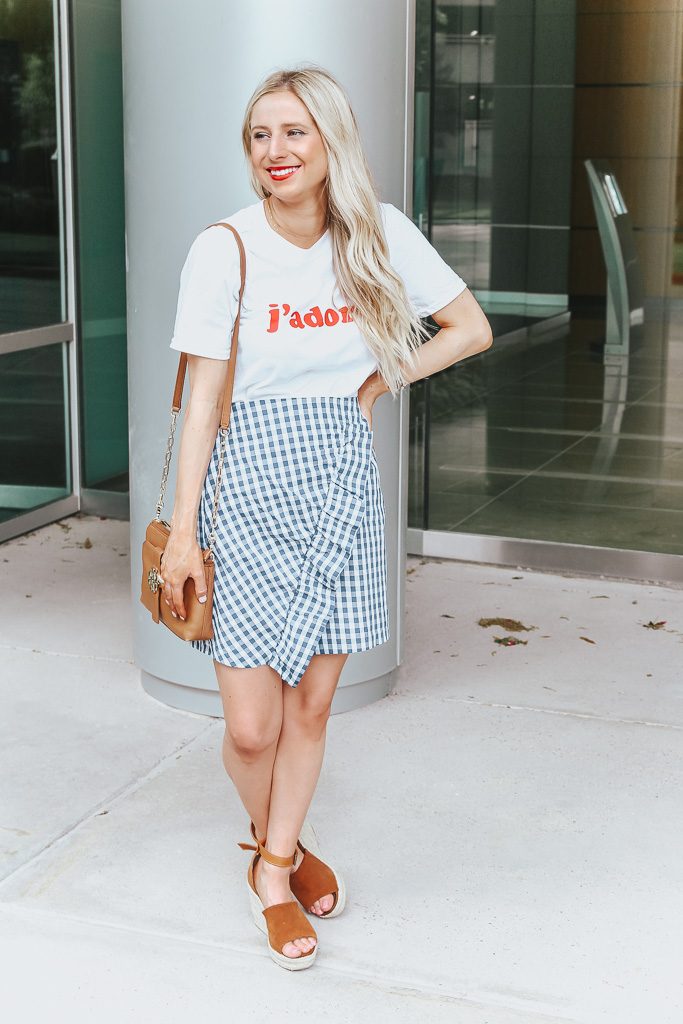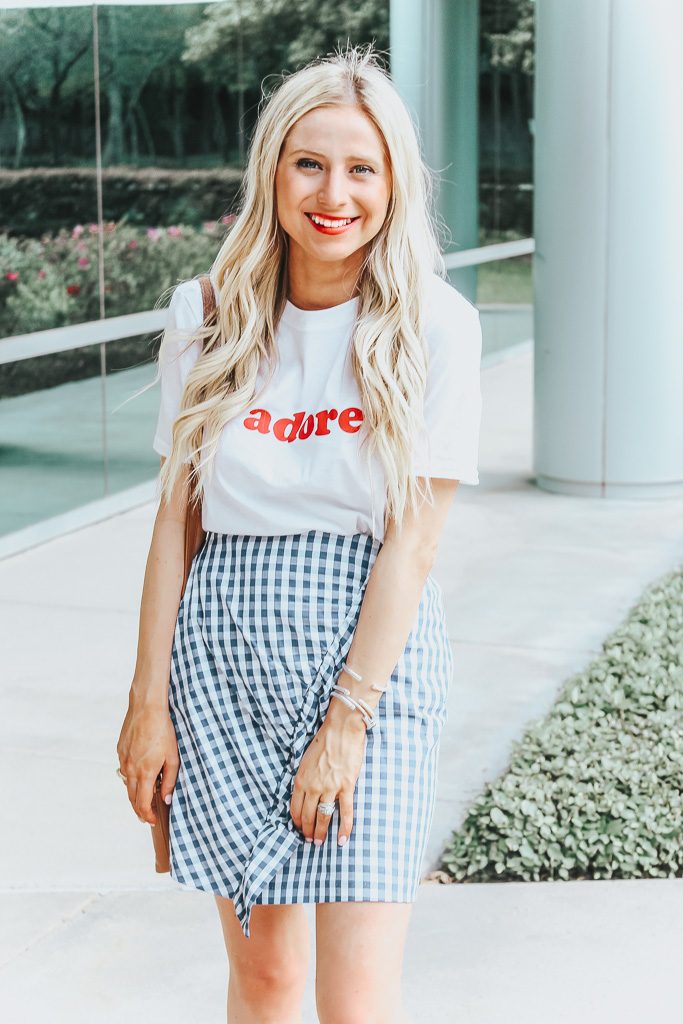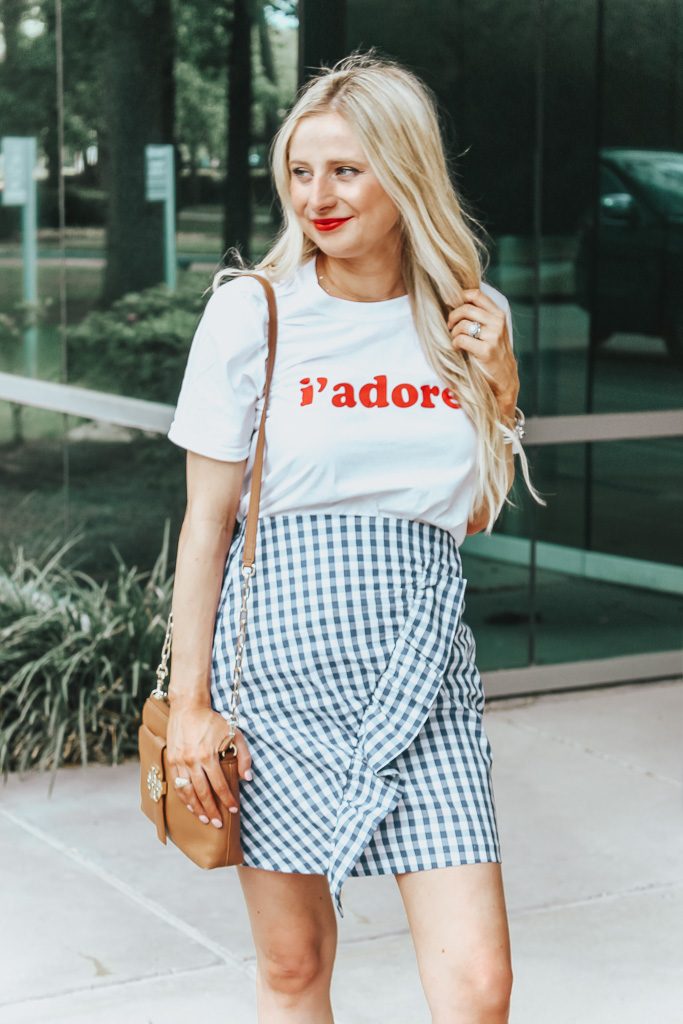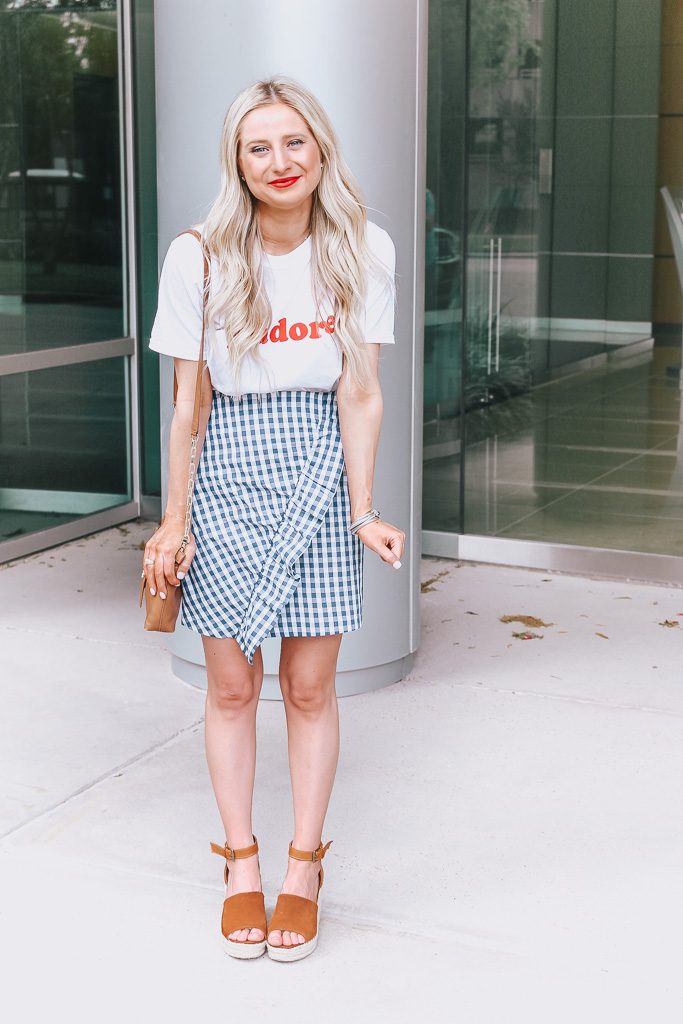 Shirt: ASOS // Skirt: Target // Shoes: Steve Madden, Similar, Similar // Bag: Tory Burch – Old, Similar // Lipstick: Russian Red
---
Shop the Post