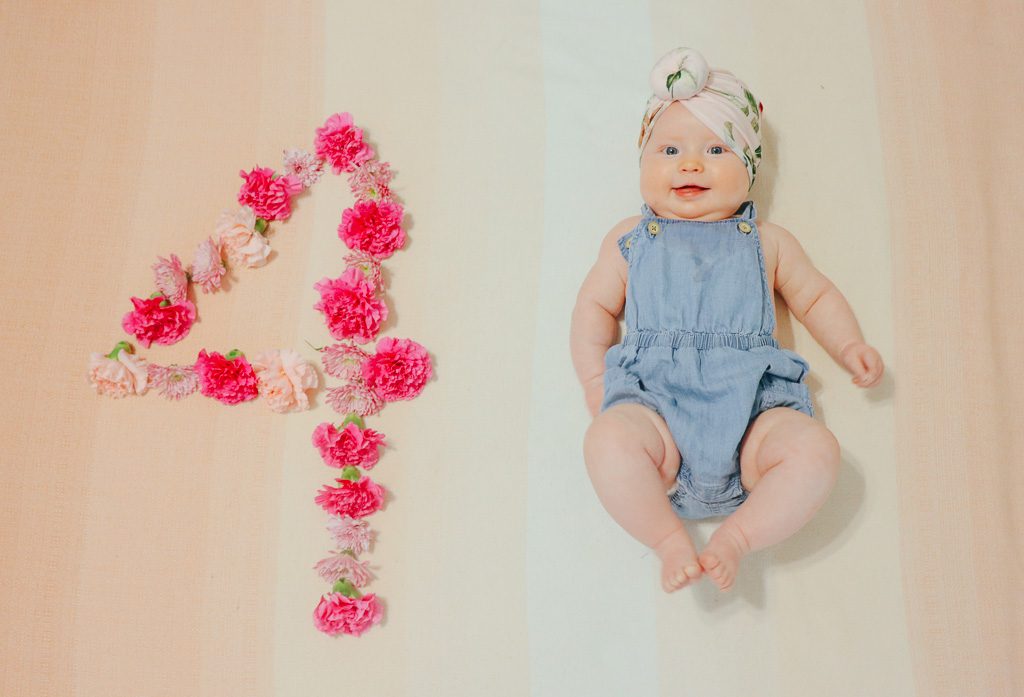 I told myself that these monthly updates would ALWAYS be up exactly on her month birthdays. While that is a great thought, it can be really hard to do! We finally got around to taking her four month pictures yesterday, at least we took them right?? I'm not even a week late so I'm just going to call that a win. Month four has been the best month yet! Each month with Hunter just gets better and better. Hunter is really starting to develop her own little personality and it is the best!
Hunter loves to talk, babble and yell! We have conversations, I'm not quite sure what we talk about but I think she knows! If you talk to Hunter, she will talk right back. One of my favorite things to do is mimic the noises she makes and then we just go back and forth. I think I could do that all day with her. This girl will let you know when she is mad. Sometimes Hunter gets frustrated with her bottle and y'all she gets MAD! She throws her little body around and will yell. Maybe that's a glimpse of what were in for as she gets older? 😳 We have a sassy little thing on our hands.
The four month sleep regression has been no joke. It actually started right around 3.5 months while Mason was out of town. It seemed to be getting a little better but she was still up at least two times a night which was hard because she had been sleeping through the night since she was a few weeks old. Lately, she has been waking up in the middle of the night around 2-4 and not wanting to go back to sleep. She wants to be up for the day but I am not down for that. I cherish my sleep and we try so hard to get her to go back to sleep, sometimes unsuccessfully. I'm hoping the regression will pass soon because I really miss my good little sleeper.
As anyone who knows me, knows that I am NOT a morning person. Hunter on the other hand is definitely a morning person. I actually love the mornings with her even if I may be half asleep! She is so sweet and cuddly first thing in the morning. Hunter also loves to have chats in the morning, it is the cutest thing ever. I think she is telling us what she dreamt about (probably milk) and she is just all smiles when she wakes up. She has to eat first though or she is not a happy camper! As soon as she does eat though, she is just the sweetest!
Hunter is still not a fan of tummy time. She tolerates it but after she has had enough, she will let you know. She is getting so strong though! She can hold her head so well and rolls from side to side. She hasn't rolled completely over yet but I know it's just a matter of time. Now that she rolls to her side, she loves to sleep that way. We always put her to sleep on her back and almost instantly every single night she is on her side. It stresses Mason and I out so we carefully roll her back on her back. I'm not even kidding that before we can even lay back down, she is rolled to her side. She is so determined to sleep on her side.
She had her four month checkup at the pediatrician this week and y'all, I HAVE A BIG BABY! I never thought those words would come out of my mouth! She is in the 98th percentile for head size, 97th percentile for height and 72nd for weight. I know one day, Hunter will be taller than me and that will be so strange. I always assumed I would have girls right around my height because my mom, sister and I are almost all the same height. I guess that was silly of me to assume because Mason is a foot taller than me. Our pediatrician said Hunter is a very healthy girl! I'm still breastfeeding, mostly pumping and that has it challenges but it is so worth it. We won't be starting any solid foods until she is 6 months old and I'm glad. I'm not ready to have a baby that doesn't just take a bottle, time passes too quickly!
Hunter has been drooling constantly. I really think there is just a never ending waterfall of drool from her mouth as you can clearly see in these pictures. She loves to put her hands in her mouth and I think she will start teething sooner rather than later. Not only does Hunter love to put her hands in her mouth, but she loves to try to put her feet in her mouth! She is always grabbing her feet and curling up in a little ball trying to get them close to her mouth. She really likes her feet! Hunter will grab anything that she can get her hands on. I love watching her see something and then grabbing it. I feel like she learns something new everyday!
These past four months have been so sweet with our Hunter girl. She is the best blessing that I could ever ask for. She spoils us with her cuddles and loving personality. I'm so glad I get to be her mom. Thank you so much for reading and caring about our Hunter!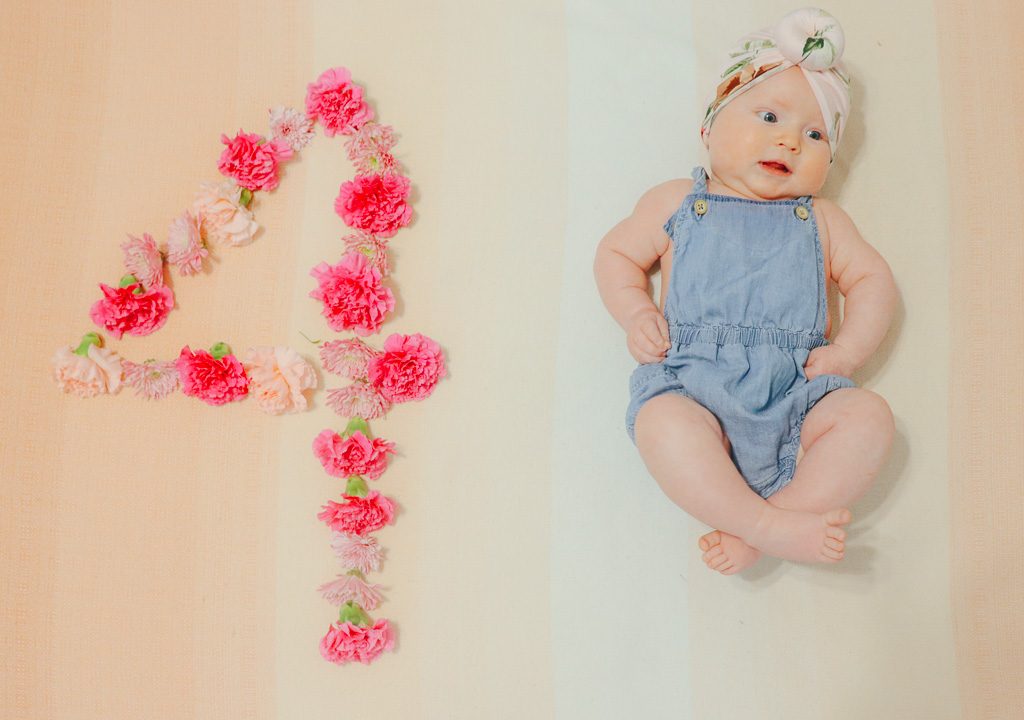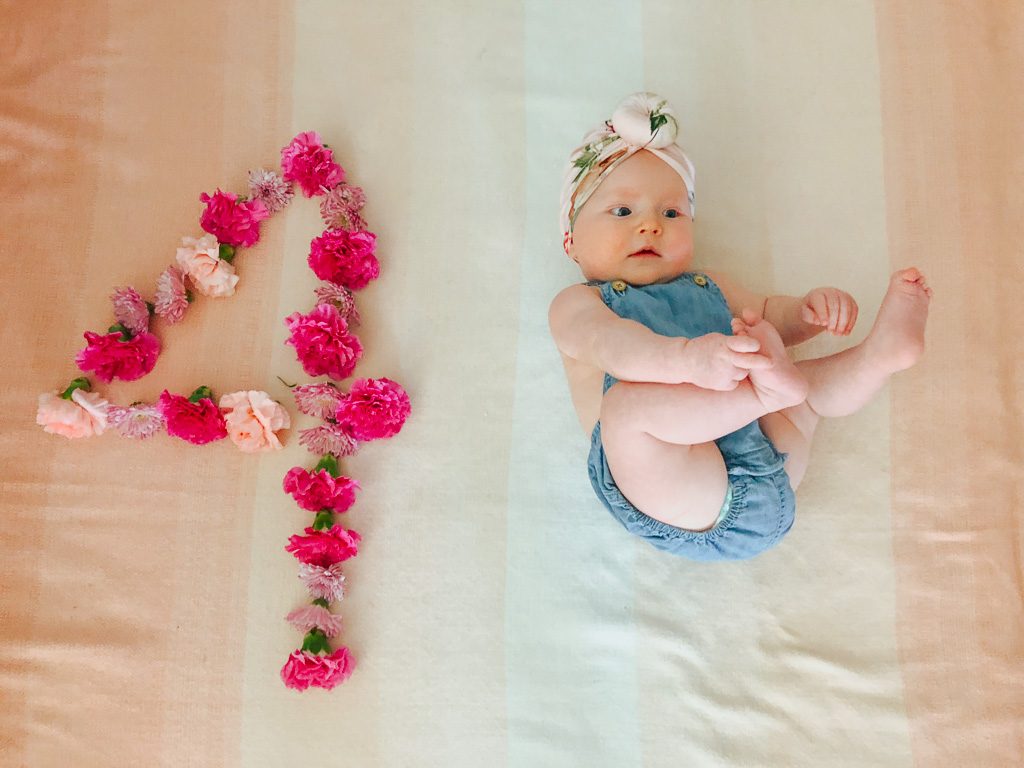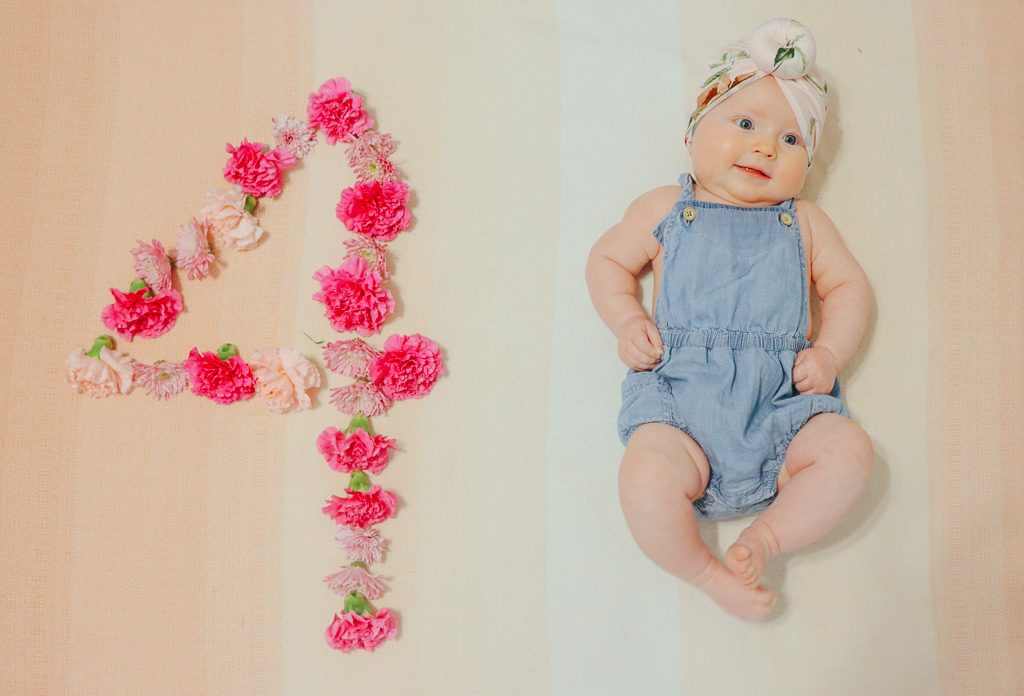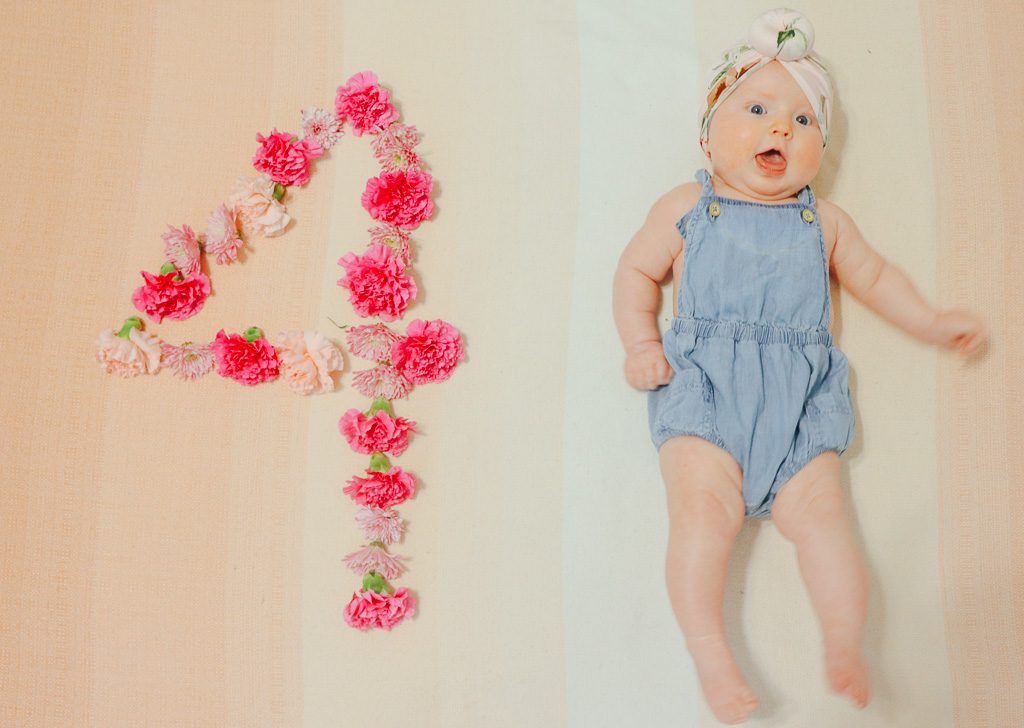 Hunter's Romper: Old Navy – Similar // Hunter's Turban: Etsy