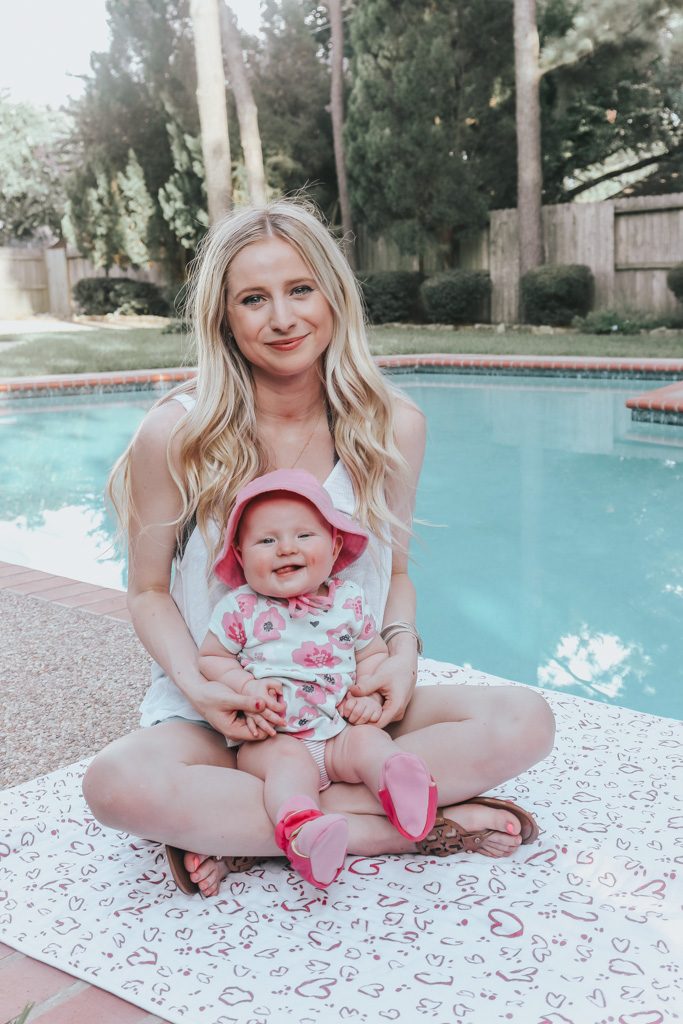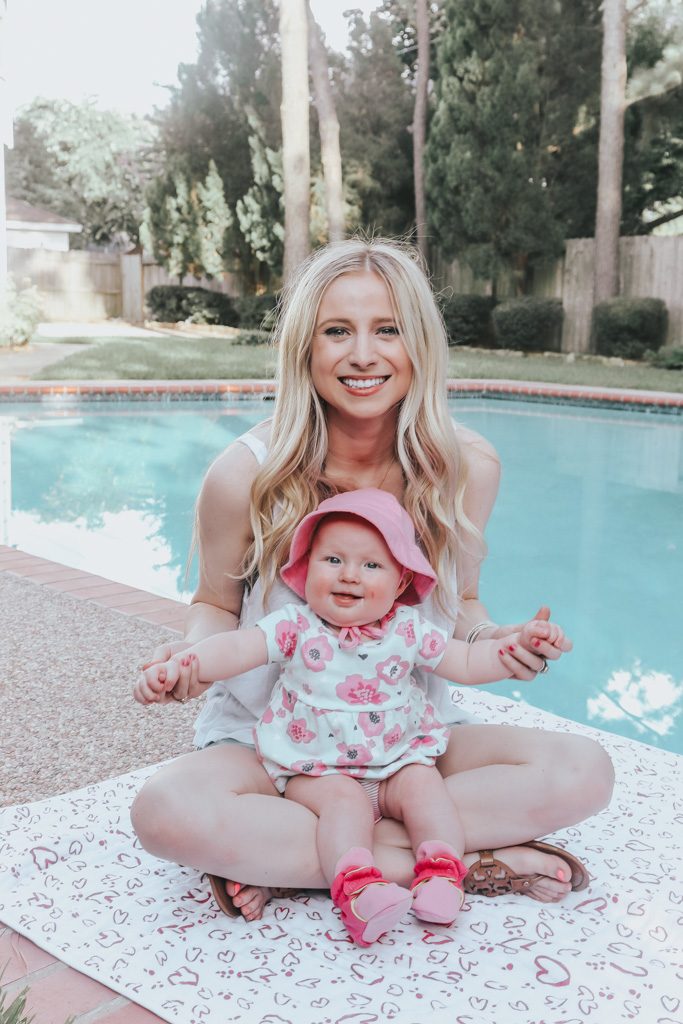 As we all know, I am a shopping addict. I wish I could say a recovering shopping addict but I know that will never happen (RIP bank account). As much as I enjoy shopping for myself, I love it a million times more for Hunter! Baby clothes and items are just too dang cute. How can you look at a tiny little dress and not smile? One of my favorite brands to shop for Hunter is Zutano. The first item I received from Zutano was actually a gift. They were the cutest little fleece booties for Hunter and what makes them so special is that they snap! The snaps make the booties actually stay on her feet. I always like to have Hunter's feet covered in public so booties that she can't kick off are a must. After she outgrew her first little pair of booties, I knew I needed more!
I was looking for more booties for Hunter when I found that they also have Cotton Booties. I love that they come in a lighter material for Summer so that her feet won't get too hot but are still covered. Putting shoes on Hunter can sometimes be a nightmare because she is wiggle worm so these booties are perfect.
As I continued to browse, because of course I couldn't just stop with the booties, I found a bunch of items that were perfect for Summer! The dress that Hunter is wearing in these photos in actually a little baby romper. It's the Poppy Romper Dress and the print is so cute. I love that it's actually a romper because it covers up her diaper.
Hunter has super light skin like me and I know how delicate baby skin is so we try to keep her sun exposure to a minimum. She is still mostly bald with tiny little bits of hair so her head needs to be protected! We have a few sun hats for her but I needed a pink one for her (obviously)! I got her the Sun Hat in Hot Pink to match her little rompy. It ties under her chin so it stayed on her head! She didn't even try once to pull it off which I was pleasantly surprised about. We like to spend some time outside by the pool at Mason's parents' house but the ground can get so hot in the Houston sun. I grabbed this Blanket to throw down by the pool so that we can sit comfortably and watch the family swim! It would also be perfect to lay in the grass or even at home to sit with baby on. It has a different design on each side and is the cutest. These have become summer essentials for us when were spending time outside and we can't leave the house without them!
Thanks so much for reading!

Thank you to Zutano for collaborating with Blonde in the Burbs for this post! As always, all thoughts and opinions are 100% my own. Thank you for supporting the brands that support Blonde in the Burbs!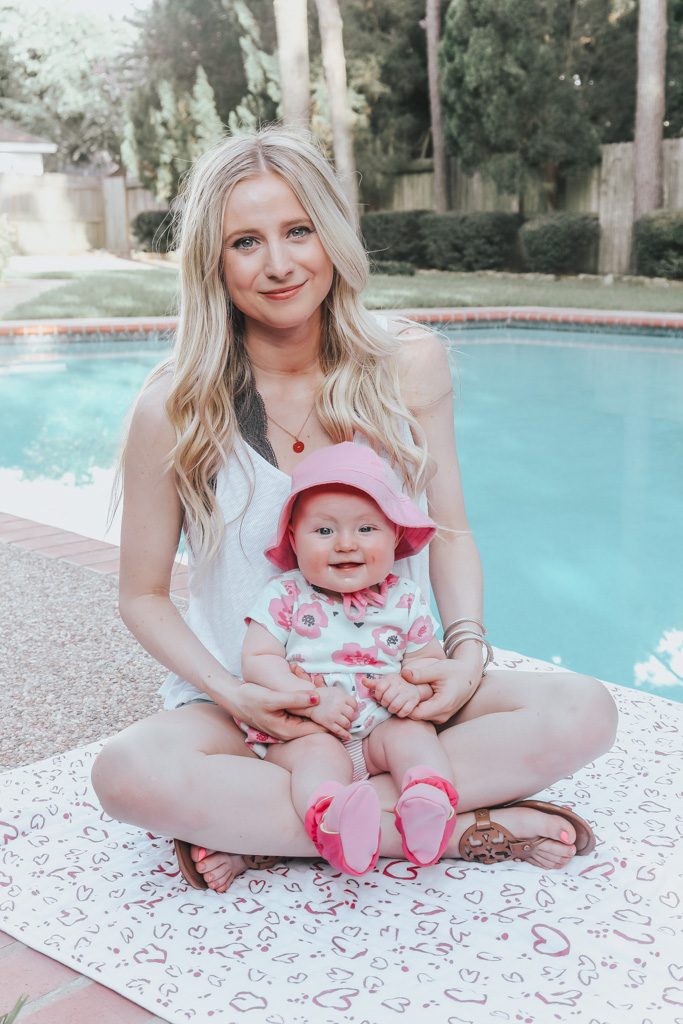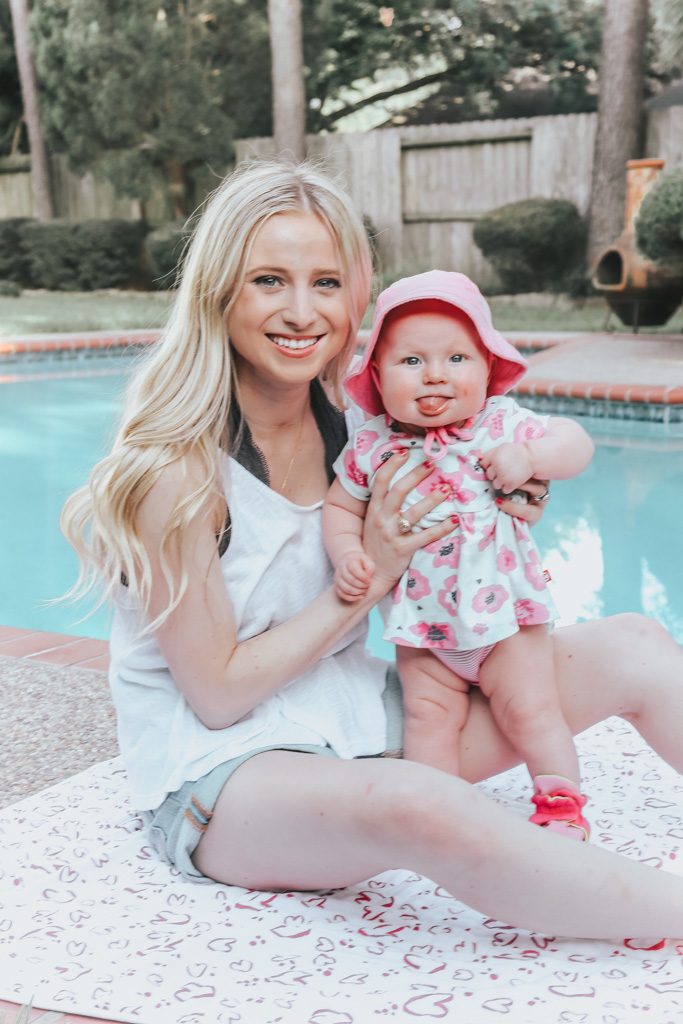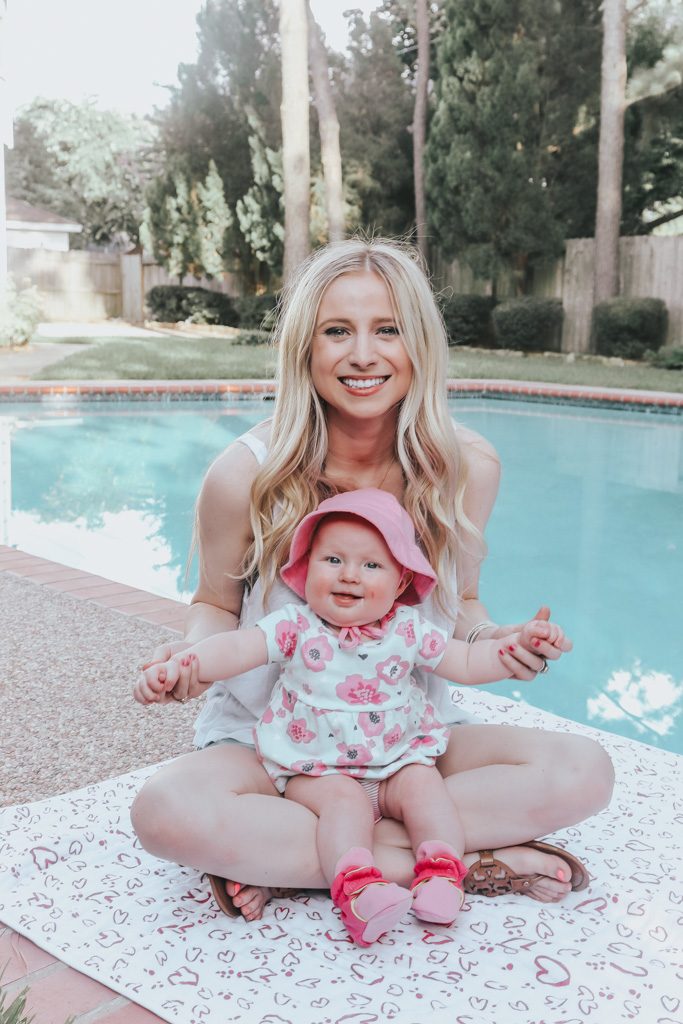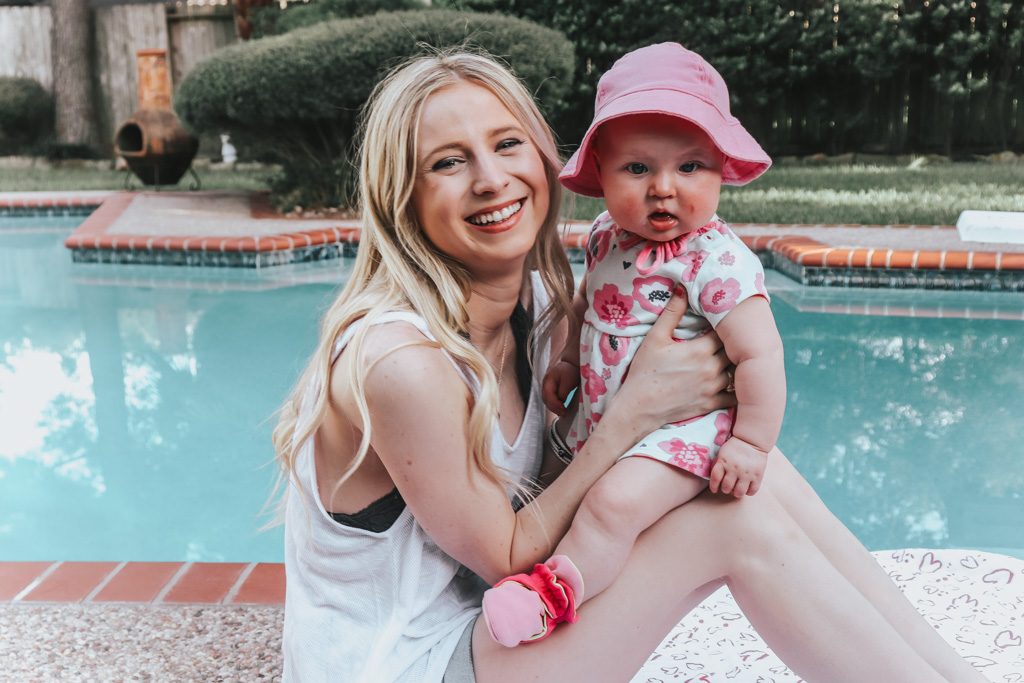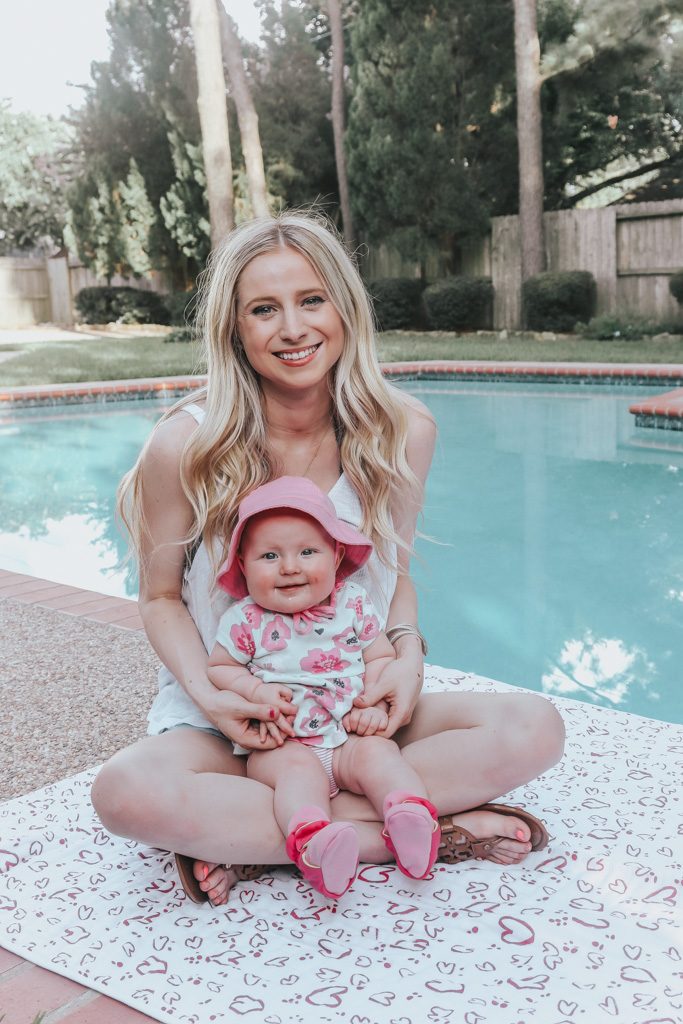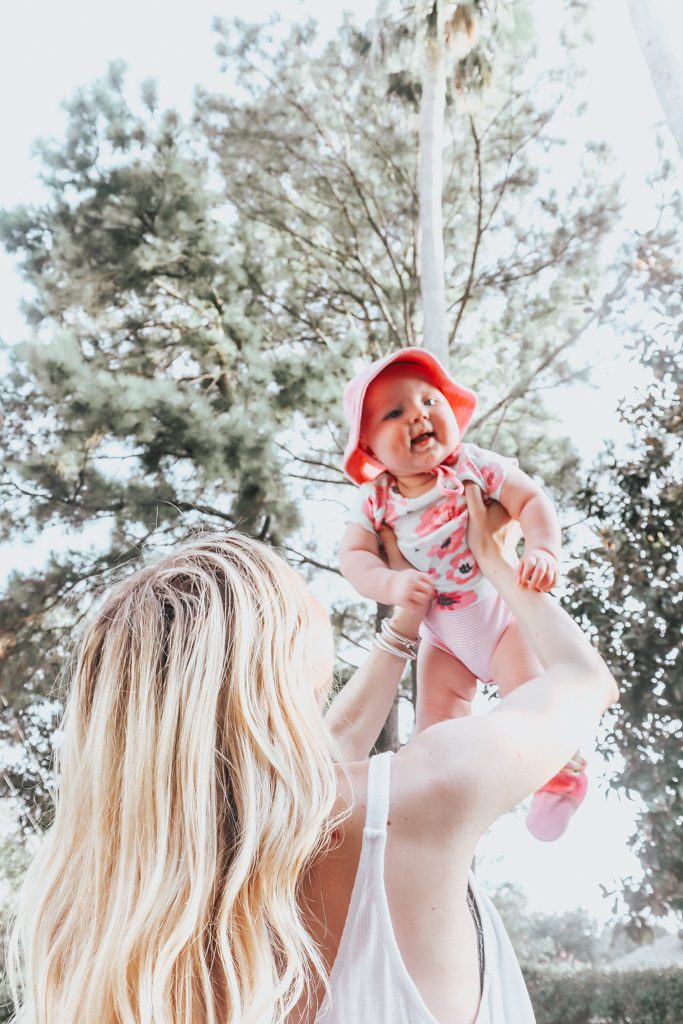 Hunter's Romper: Zutano // Hunter's Hat: Zutano // Hunter's Booties: Zutano // Blanket: Zutano
My Top: Free People // My Bralette: Urban Outfitters // My Shorts: Levi's // Shoes: Tory Burch
---
Shop the Post